Attorney: Plea talks continue in prison escape
Convicted murderer John Manard and his attorney appeared briefly last week in Leavenworth County District Court on charges related to Manard's escape from the Lansing Correctional Facility in February.
Terence A. Lober, Manard's court-appointed attorney, said his client was scheduled to appear again before Judge Frederick Stewart at 3 p.m. Dec. 6.
Deborah Owens, a spokeswoman for the County Attorney's Office, said Manard was expected to enter a plea in court Dec. 6.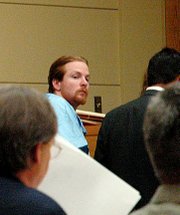 Manard is charged with felony aggravated escape and trafficking in contraband after his escape from the prison on Feb. 12 with the help of Toby Young, then director of the Safe Harbor Prison Dogs program.
A preliminary hearing had been scheduled Nov. 8 in District Court, but it was continued because Lober could not attend the hearing because of an emergency.
Before the Nov. 8 preliminary hearing was continued, Leavenworth County Attorney Frank Kohl had said he had expected Manard would enter a plea and the hearing would not take place.
After Manard's appearance Friday, Nov. 17, Lober wouldn't comment on the likelihood of a plea deal.
"There have been negotiations : " he said. "There will be a decision on the sixth of December as to go forward with the preliminary hearing, or we will waive it. Depending on the status of the negotiations, we may reach some other significant point in the prosecution."
Manard, who wore a beard and a blue jumpsuit, spent only a couple of minutes in the courtroom before he was escorted away after a brief conference at the judge's bench.
Authorities say Manard hid in a dog crate in the back of a Safe Harbor van, which Young drove away from the prison.
They were captured 12 days later after they were tracked to and chased in Tennessee.
Young, 49, was sentenced to 21 months in prison after she pleaded guilty for her role in the escape.
Manard, 27, is serving a life sentence for first-degree murder, aggravated robbery and criminal possession of a firearm associated with the carjacking and murder of a Johnson County man in 1996.
He also faces federal weapons crime charges related to the escape.