A fresh start
Work ethic at a premium as players seek to impress first-year coach Briggs
Long before the first day of practice arrived, prospective members of the Lansing High boys basketball team knew the 2006-2007 season would be different from years past.
For one thing, Lansing used the same starting lineup for the past two seasons. All five starters graduated.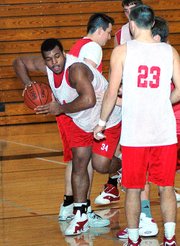 Then came the hiring of new head coach Rod Briggs and assistant Ben Doll.
With a new coaching staff and all starting spots up for grabs, all of the players entered practice last week with a clean slate. Senior forward Jeff Jackson said the fresh start has players motivated to prove they belong on the court.
"Everybody's fighting for a spot," Jackson said. "Everybody's working hard."
Jackson is one of three returning players with varsity experience. He was the Lions' top reserve the past two years. Senior J.T. Collins and junior Stephen Didde saw limited varsity action.
A starting lineup has yet to be determined, but it is clear that whoever starts will be in good shape. Physical conditioning is a big deal to Briggs. He made that clear to players early in the fall. Those who weren't participating in a fall sport ran on the track each day after school in addition to lifting weights.
Conditioning also is a major part of every practice. The Lions do conditioning drills at the start of practice and run constantly during practice whether for fitness or as punishment for throwing an errant pass. They run again at the end of workouts.
Junior Will Johnson said the Lions' improved physical fitness was evident from the first day of practice.
"I think the players that were doing the fall conditioning knew what was coming and knew what they had to do to get in shape," he said. "I saw a major difference compared to last year of how many guys were in shape, and I was really surprised because last year we had guys running around who weren't in shape for two or three weeks. (This year) we were in shape the first five days of practice. We were ready to go."
Little is known about what the Lions will do offensively. Jackson said they will run a lot of motion and try to utilize the fast break, but no specifics were given.
He said the primary focus has been on playing tough, hard-nosed defense.
"Defense wins games, and we're working really hard at it," he said. "That's how we're going to win. Our offense probably isn't as good as it was last year, but our defense is what's going to make us win."
Johnson agreed, and he said he thought the Lions would surprise some opponents this year.
"We're a fast team. We're really quick," he said. "People are going to underestimate us, and we're going to show them. We're going to prove them wrong this season."
Lansing opens its season at 7 p.m. Friday, Dec. 1, at home against Bonner Springs. LHS then plays Dec. 7-9 in the Bonner Springs Metro Prep Classic. The Lions will open that tournament against Bishop Miege.