LHS

team proves mettle at Math Day
Lansing High School math whizzes have put the school back on the map at Washburn University's annual Math Day competition.
On Tuesday, Nov. 14, LHS seniors Abby Hauver and Adam New and junior Bill Pace earned second place in the Class 5A and 6A division team competition in Topeka.
Pace also earned first place in the individual nonsenior category, and Hauver and New earned honorable mention accolades in the senior category.
The awards were based on the students' performance on a 40-question written examination taken by 241 students from 21 schools.
"It felt good. I was expecting to place, but not necessarily first," said Pace, who received a medal and a ribbon for his first-place finish.
He said he enjoyed the fast pace of academic competition. But chemistry, not math, is his favorite subject.
"Math is easy to the point that it bores me. I just pull out the patterns and follow them very quickly," Pace said.
Faculty sponsor Jean Volk said 11 LHS juniors and seniors attended the annual Math Day competition, which Washburn has played host to every year since 1969.
She said the team score was compiled from the top three test-takers from each school.
Hauver, New and Pace actually tied for first place with two other schools, but lost the tiebreaker, Volk said.
"It was the first time we placed in 10 years at that competition," Volk said, adding the awards meant a lot to her because LHS doesn't have lengthy formal practice sessions like many other schools.
While some LHS students study for competition on their own time, most of the preparation comes from the curriculum.
"It's really awesome because it's almost like their raw skill. We haven't better prepared them more than what they get from our instruction in class, and our assignments and our discussions," she said.
Other LHS students who attended Math Day were seniors Elizabeth Cristiano, Stephanie Eckert, Geoffry Fowles, Kristen Kirby, Michael Nielsen, Derek Pickett and Kalon Thrasher; and junior Hal Laurence.
LHS also brought home honors from Mathematics Day at Emporia State University on Oct. 25.
Eighteen LHS students competed against more than 750 students from 120 schools.
"We were up against a lot of tough competition there," Volk said about the event, which included team and individual contests.
In the individual algebra competition, Pace earned fifth-place honors, with sophomore Casey Andrews following in 10th place.
Senior Josh Potter earned the 31st highest score overall in the geometry competition, with junior Kristin Brandt following in 32nd place.
In team competition, juniors Eric Hansen and Hal Laurence and senior Kristen Kirby earned 12th place in geometry. Seniors Derek Pickett, Hauver and New came in 17th in the Math Scramble.
Also attending Mathematics Day were juniors Lauren Judy and Derek Sellers; sophomores Jenny Curatola, Clayton Hall and Austin Keeling; and freshmen Taylor Kraft, Anisha Patel and Jennifer Smisek.
Volk said the events in Topeka and Emporia provided an outlet to test the students' skills, while giving them a sneak peek at life beyond high school.
"Washburn schedules their jazz band to play during lunch. They have art and chemistry tours set up. It's kind of a reward to be able to go. We want them to have an enjoyable experience with math, and on top of that they can see a little bit of college life," she said.
Hoping to make math more enjoyable, a "behind-the-scenes group" also has invigorated students' interest in the subject with the school's "unofficial" Math Club.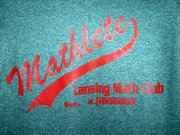 And like the characters who conduct their business underground in the movie "Fight Club," LHS students and staff don't publicize their involvement in the group.
"The first rule about Math Club is you don't talk about Math Club," Volk said with a laugh. "We have T-shirts this year that say 'Mathlete.' A lot of kids bought them and a lot of people wear them, but nobody talks about it."
Is Volk the sponsor of the club?
"I can't tell you that," Volk said in jest. "I can't talk about it."
The students' next formal competition will take place in the spring at the Kaw Valley League Math Relays.