New Beginnings shows off new building
Fresh paint and spotless floors grace the halls and classrooms at the Leavenworth County School of New Beginnings, along with a renewed pride among its students and staff.
Formerly the VA School in Leavenworth, New Beginnings had its first classes in a renovated building in the Lansing Business Center on Nov. 6.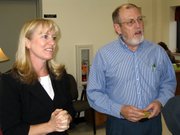 The school serves students with special needs through the Leavenworth County Special Education Cooperative.
At the end of the 2005-'06 school year, the VA School learned its building would be renovated and it would have to find a new home, said principal Sandra VanCise.
The school changed its name to New Beginnings and classes were conducted at First United Methodist Church's education center in Leavenworth until the move to Lansing.
New Beginnings celebrated its new digs with an open house on Thursday, Nov. 16.
Samantha Timpe, a social studies and reading teacher for grades nine through 12, said she could already see the renovated setting's impact on her students.
"Having a school that's all theirs, something that is new and shiny and they're the first ones who get to use it, it helps them to take pride in it. Every day, you see the behaviors : you see them performing better," she said, adding that the teachers are satisfied as well.
"It's a pretty once-in-a-lifetime thing. How often does a teacher ever get a brand-new room for the first time? It's pretty special to see it come so far," said Timpe, who has taught special education students for 10 years.
The building is owned by the Lansing School District, one of six districts that make up the cooperative. Other member districts are Leavenworth, Fort Leavenworth, Basehor-Linwood, Tonganoxie and Easton.
VanCise said the co-op's administrative offices eventually would occupy the other side of the building.
The K-12 school staged a contest among students in May to rename the school.
Now in her 11th year with the program, VanCise said New Beginnings was an appropriate moniker because most of its students were previously enrolled in a general education setting at one of the six Leavenworth County public school districts.
In addition, most are students with emotional disturbances, VanCise said.
Aside from the stress of relocating again, the school's 15 staff members and 38 students welcomed the move to a permanent location.
"It's great. The kids are really enjoying it," VanCise said. "I know some of the teachers have been anticipating the day we could move in. And when it arrived it was just awesome, knowing that there is nowhere else that we have to go, that this will be it."
During the open house, several students escorted family members around the school, which includes a library, lockers to store students' belongings and a spacious cafeteria that doubles as an assembly room.
Student Chris Estes showed off the 6,300-square-foot building to his mother, Stephanie Elliott.
The Leavenworth sixth-grader has been in the program since third grade.
He said he preferred New Beginnings to other schools because he receives more attention there.
"It's just easier to learn when there's less people in class," said Chris, whose favorite subject is math.
He said he's happy with the new building.
"I think it's cool because it's new. Plus, you get lockers here that we didn't have at the VA."