Angel Tree requests at all-time high
The Christmas tree in the lobby of Lansing City Hall is filled with holiday wishes of youngsters throughout the community.
Lansing City Clerk Sunshine Petrone only hopes the community will help all of those wishes come true.
The city's annual Angel Tree drive this year received requests from 26 underprivileged families, representing 70 children.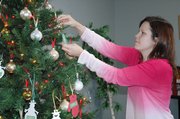 It's the largest amount of requests for gifts in the 20 years the city has sponsored the program.
"We have more families than ever before - it grows every year," Petrone said earlier this week. "I just hope people in the community turn out to help so these kids can have a great Christmas."
Decorations listing gifts sought by children dot the tree. Among the items typically on the children's wish list, Petrone said, are toys, movies, makeup, video games and compact discs. Along with each child's wishes the city lists his or her shoes, pants and shirt sizes.
Petrone said donors weren't required to purchase everything on the list; for example, those children who ask for a bicycle receive them from the city through a Lansing Correctional Facility program.
"There are lots of options," Petrone said. "A donor can purchase as many items as they are able, but there's no requirements. We appreciation any contribution people give."
In addition to the Angel Tree gifts, the city also is accepting canned goods and dry goods to be split up and distributed to the participating families.
Petrone said she was certain the community would pick up the pace on what has been a slower-than-normal response this year to the Angel Tree. Prospective donors can come into City Hall, 800 First Terrace, during regular hours to select a child's wish list. Tags also will be available at the Lansing Community Center, in the basement of City Hall, on Sunday, Dec. 3, during the Mayor's Christmas Tree Lighting ceremony.
All gifts for the program are due back at City Hall by 5 p.m. Dec. 11; gifts will be distributed to the families by members of the Lansing Lions and Lansing Kiwanis clubs on Dec. 15.
Petrone said anyone - an individual, family, business or civic organization - could participate. She talked to a group of Girl Scouts this week about the program.
"They're all fifth-graders, so they want a girl who is 10 or 11 years old," she said. "I know there are several community groups that purchase gifts too."