Gala raises $25K
Foundation leaders ecstatic with fundraiser
Lansing Educational Foundation Fund board members are hailing the success of this month's Blue Jean Ball, and with good reason: The foundation's take from the gala is going to be near $25,000.
"Basically we still have a few outstanding items, but when all of those come in we're still going to be right about $25,000 in profit," Becky Courtney, the foundation's treasurer, said during a meeting of the board on Monday, Nov. 27.
Courtney told board members the dance and related activities brought in about $43,300 with expenses thus far running about $17,700.
"It exceeds our wildest expectations from when we started this," said Chris Cristiano, who noted the foundation board originally had hoped to raise $12,000 from the dance when planning began about two years ago.
The dance was sold out and attracted 268 guests at $50 a head. Those guests then bid on a plethora of live and silent auction items, ranging from landscape services, football and basketball tickets and a catered dinner for six to a Christmas tree decorated by assistant Lansing schools superintendent Donna Hughes and a personally guided tour of Lansing Correctional Facility by Warden Dave McKune.
Photo Gallery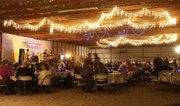 LEFF's Blue Jean Ball
Board members expressed gratitude for all of the donations, both for the auction and other in-kind services.
"I want everybody in the community to know that it was the community merchants who came through for us," said Norma Hoagland, who solicited donations for the auction. "We expanded our circle and we went outside the Leavenworth-Lansing area to try to bring in items to be donated : but it was our community merchants who came through.
"I want people to remember that when they do their Christmas shopping," she added.
The foundation will use the funds to help in its mission to benefit programs in Lansing public schools.
Mary Alice Schroeger, the foundation's director, said many in the community might not realize the amount of untold volunteer hours that went into the ball.
She praised Courtney, Cristiano, Hoagland, Chris Aus and others for their contributions.
"These ladies spent an awful lot of volunteer time putting on this event," she said.
Their work wasn't in vain.
"I thought it went great," said Tom Young, foundation president.
Though many have commented they're all ready for another Blue Jean Ball in 2007, Schroeger said it was unlikely there'd be another one until 2008.
"We don't want to burn ourselves out - or the community," she said.
Board members joked at their meeting they were undergoing "Blue Jean Ball withdrawal."
"As I was coming over here this afternoon I thought, 'Wow, my phone never rings now,'" Aus said. "I have not looked at my bill, but I know I went over on minutes (during the planning), and I never go over."