Homegrown resident opens mail shop
Lansing resident Kenny Elkins has a good reason for opening a mailing services shop in his hometown.
"It's nice to work where you live," he said.
Elkins is the owner of the newly opened Goin' Postal at 816 N. Main St., in the Main Street Center. Officials with the Leavenworth-Lansing Area Chamber of Commerce conducted a ribbon-cutting at the business on Tuesday, Nov. 28.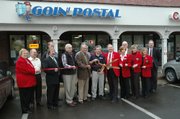 Mayor Kenneth Bernard and chamber president Sam Maxwell welcomed the shop to Lansing and complimented Elkins for locating in the city.
Elkins for years was transportation coordinator for the Council on Aging in Leavenworth. Then in 2000, he began commuting into Missouri to work for an engine company.
A year ago, he said, he was browsing the Internet and happened upon a site touting mailing service shops. It planted a seed in his mind. About six months ago, he began investigating the industry and decided to open his own shop in Lansing.
"I thought it'd be a good thing to do," Elkins said, "and it was something that was needed here."
Goin' Postal opened Oct. 25, and Elkins said business has been steady in the month since. Now, he's bracing for what he hopes is an onslaught of business related to the holiday season.
"I expect this month will be great," he said.
Goin' Postal offers shipping through Federal Express, DHL and the U.S. Postal Service. It also offers shipping containers and packaging material for sale.
In addition to Elkins, Goin' Postal employs two part-time workers.