Lansing Tournament to conclude Saturday
The Lansing Middle School seventh- and eighth-grade girls basketball A teams will close out their seasons Saturday at the Lansing Tournament.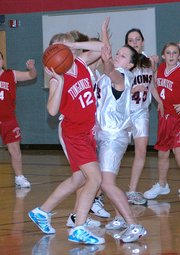 The eighth-graders will tip off at 10:15 a.m. in the third-place game of their bracket. The seventh-graders will start at approximately 11:30 in the championship game of their bracket.
The seventh-graders advanced to the championship by winning their semifinal game against Lexington Trails, 26-13, on Monday afternoon. Gabby Hacker led Lansing in that game with a game-high nine points. Lori Angello and Tawnee Hall chipped in four points apiece, Taylor Kroll scored three and Vanessa Smith, Alex Taylor and Micheala Taylor each scored two.
Lansing will play Clark Middle School in the finals. Clark, which is based in Bonner Springs, boasts a lineup as tall as they come in middle school basketball. Clark used its size advantage against Lansing on Nov. 11 to claim a 39-8 victory.
The Lansing eighth-graders were defeated by Lexington Trails in their semifinal game, 35-21. Lansing held a 12-9 lead late in the first half, but Trails closed with a flurry and took a four-point lead by halftime.
Katie Delich led Lansing with 12 points, Allison Ewing scored five, Katie Goll had two and Katie Jensen and Alyssa Cole chipped in one apiece.