LHS

girls hope to replicate last year's result against Bravettes
A pair of losses to Bonner Springs on buzzer-beater three-pointers provided all the kindling the Lansing High girls basketball team needed to torch the Bravettes twice last year in a series that was all about revenge.
The Lions got their payback, but that was last year. Will their blood still be boiling this time around when the Kaw Valley League foes kick off their seasons at 6 p.m. Friday at Johnsmeyer Gymnasium?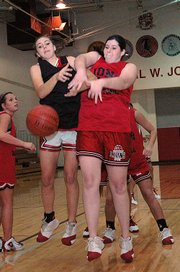 Junior guard Katie Nietzke said she expects the game to be heated. She's about to begin her third year of the rivalry against a Bonner squad that is loaded with players from her summer league team, KC Swoosh.
"I still want to win, because I still have that little rivalry," she said. "It's going to be really fun and interesting. I'm excited to see how they're playing this year, and I'm excited to see what they come out with because they lost some key players."
The Bravettes' biggest loss came with the graduation of Hilary Johnson, one of the league's most lethal three-point shooters. The Lions also will feature a different look as they take the court for the first time in three years without the services of Amanda Radovich, Rachel Darrow or Nichole Twitchel.
Lansing's backcourt appears somewhat set with sophomore Brittney Lang running the point, Nietzke at shooting guard and Amanda Darrow on the other wing. The post positions will be filled by a number of players including junior Christine Cordes and returning starter Elizabeth Cristiano. Morgan Chiles also will compete for a starting spot.
Cristiano said the Lions are starting to jell as the first game nears.
"At Red-White, we definitely started getting some good combinations together as far as girls and plays," she said. "I think we're really starting to mesh well and get things together. We've got the stuff that we need to get it done next week. Hopefully we can just execute it and get it done."
LHS coach Keith Andrews said it is important that his team bring the same intensity and focus to the court this year as it had during the first game with Bonner last year. That contest resulted in a 63-41 victory where the Lions surged to an 18-4 lead and never looked back.
"The intensity level for us from now until then has to really be raised," he said. "It has to be raised for Friday night because (the Bravettes) are going to come to play). The good thing for both teams is that neither one of us are going to be in full stride, so it's probably a good opener. But it's going to be a league game for us too, so we need to make sure to go and get that."
Bonner will enter the game as the more proven team offensively. Junior guard Kelsey Stanbrough is a streaky shooter, but when she's on she blows teams out of the gym. She hit both buzzer-beaters against Lansing two years ago in the games that ignited the rivalry. Meanwhile, junior forward Christina Delladio is arguably one of the most improved players in the league entering the season. She put up 18 points in the second meeting last year.
"She improved so much," Nietzke said of Delladio, one of her summer league teammates. "She's going to be a big threat this year. We have size, but nothing compared to the 6-foot-2 or whatever she is."
The Bravettes may be the better offensive team early in the year, but the Lions will counter with a stingy defense.
"If we come out hard on defense we can shut down anybody," Nietzke said. "We're very quick, and if we use that to our advantage it should be a good game to watch."