LMS

eighth-graders split with Tonganoxie Warriors
The Lansing Middle School girls basketball B team had an up-and-down season, but the Lions ended the year on a high note Tuesday as they disposed of rival Tonganoxie, 31-23, at the LMS gymnasium.
The Lions darted to a 9-4 lead in the first quarter as forward Hannah Young poured in five early points. The Lions never looked back.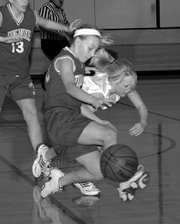 Lansing played tough defense and made it difficult for Tonganoxie to get open shots. On the offensive end, LMS spread the ball around as six players fired in baskets.
The Lions took a 17-8 lead into halftime and eventually opened up a 14-point lead as Kylie Filbert and Amanda Glynn knocked down jump shots.
Tonganoxie rallied to within 22-16 by the end of the third quarter, but Lansing picked up its defensive pressure in the fourth quarter and pulled away for the victory.
Young led Lansing with 14 points. Kaitlyn Osborne chipped in five points, Jillian Moya and Glynn had four apiece and Katie Goll and Filbert each scored two.
The LMS A team had less luck against Tonganoxie. The Lions played good defensively, but they had trouble converting on the offensive end and lost 27-20.
Lansing took a 3-0 lead in the first quarter and held TMS scoreless for the first five minutes, but once the Warriors scored their first bucket the offense continued to flow.
TMS led 4-3 after the first quarter and used a 7-3 run in the second quarter to take a comfortable lead into halftime. Lansing mustered just one basket in the third quarter, but a fourth-quarter flurry made for an entertaining finish.
LMS trailed 17-10 entering the final stanza, but an 8-4 run pulled the Lions within 21-18 with 2:47 left. The game was a nail-biter down the stretch, but the Lions were unable to claim victory.
Allison Ewing led Lansing with 8 points. Alyssa Cole, Katie Delich and Kelsie White scored three points apiece, Katie Jensen had two and Cheyenne Rettele chipped in one.