Ready for tip-off
Briggs era to begin Friday night at home against Bonner Springs
The Lansing High and Bonner Springs boys basketball teams in many ways were mirror images of each other last year.
They tied for third place in the Kaw Valley League, and both teams finished with records slightly above the .500 mark.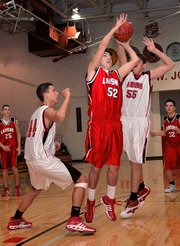 Similarities abound again this year as both teams feature revamped lineups and new coaches. That's the extent of what new LHS coach Rod Briggs and his squad know about Bonner entering the teams' season-opening showdown at 7:30 p.m. Friday at Johnsmeyer Gymnasium.
"We don't have any scouting report to go off or anything like that," Briggs said. "They don't know anything about us. We don't know anything about them. Our goal is just to play harder than they do and try to play smarter than they do."
Briggs says he's more concerned with what the Lions bring to the court than what the Braves will try to do. After all, he's only been with his new club for three weeks so there's plenty of room to grow.
"We're definitely moving along at an OK pace, but we've got to move along a little bit faster," Briggs said. "Vacation set us back a little bit, and we keep coming up with little things we need to get better at. We've just got to keep improving and we'll be much better hopefully in February and March than we are now."
That's not to say Briggs doesn't think the Lions can do well early. He's just being realistic.
"I obviously want to win really bad, but I also have to keep in perspective that it's going to be the first game of the year and we don't know exactly how everybody fits in," he said. "It's going to be a learning process for probably the first 10 games of the season."
Briggs has yet to announce a starting lineup, although sophomore Curtis Beall is expected to see a majority of the minutes at point guard and senior Jeff Jackson likely will be in the first five in the post. Senior J.T. Collins also is expected to see significant minutes on the wing. Briggs said seven players probably would play starter minutes and he'd go about 10 players deep on the bench.
No matter who is on the court, Briggs said he expects his team to play hard at all times.
"The main things we look for are effort, execution and enthusiasm," Briggs said. "Those are the three things we really try to push."
Briggs said his players have met all three of those criteria for the most part during practices. Practices tend to last 2 1/2 hours, though, and Briggs admitted his squad's focus has lapsed at times during workouts.
"They start wavering sometimes after a couple hours of concentration," he said. "We're trying to make practice harder than a game so come Friday night that's going to seem easy and they're just going to come out and things will click."
After Friday's game, Lansing will open play in the Bonner Springs Metro Prep Classic at 4:45 p.m. Thursday against Class 5A state powerhouse Bishop Miege.