Winner's secret: Just point, shoot
Clinton McClain's habit of never leaving his digital camera too far behind has paid off.
Photo Gallery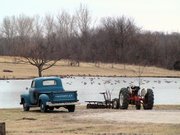 Fall Photo Contest 2006
Here are the entries in The Current's 2006 Fall Photo Contest. Clinton McClain, Lansing, was this year's winner with this shot of a Leavenworth County pond.
McClain, who works for a utility-locating service, was working one day last fall when he happened upon a scene in rural Leavenworth County that caught his eye. He grabbed the camera and took several shots.
One of those photos was judged the top entry in The Current's third-annual Fall Photo Contest. Current staff members served as judges.
McClain described himself as a self-taught amateur photographer who enjoys using his camera. His photographs adorn the walls of his home.
"I have a digital camera," he said. "There's no trick to it - just point and shoot. For that (winning) scene, I took three or four pictures there from different angles. A couple of shots had some empty spaces I didn't like, but that one seemed to work."
McClain will receive $100 for winning the contest, which drew 33 entries this year.
For more contest entries, see page 6B, or for a look at all of the entries, go to lansingcurrent.com.