No guarantees
Son's out-of-district application denied; mom still serving as school's
PTA

president
Melinda Vandruff serves as PTA president of Lansing Elementary and Intermediate schools. But unlike other parents in the group, Vandruff's child no longer attends school in the Lansing district.
For three years, her son Connor attended Lansing Elementary School as an out-of-district student. But this year, his application was denied.
Vandruff, of Leavenworth, assumed the responsibilities of PTA president in May.
Shortly after, she learned that Connor would not be allowed to enroll in third grade at LES. For now, she's continuing as PTA president.
Vandruff insists her family harbors no hard feelings about the decision and that her son suffered no harm from having to change schools.
"We were fully aware of the possibility. I'm not mad at anyone," Vandruff said.
Still, she said her family's example demonstrated there are no guarantees in a process that many area parents depend upon year after year.
"In no way has he ever suffered education wise," she said. "This was not a bad thing for Connor, but for any other child, you never know."
District officials said they could not comment specifically on Connor Vandruff's enrollment application.
They said each school's principal reviews every application and makes a recommendation to the Lansing School Board with four key criteria in mind: academic performance, discipline, attendance and available space.
This school year, 106 students who live outside the Lansing school district attend Lansing public schools, down from 130 students a year ago. Most are returning students.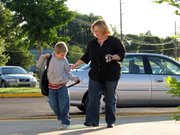 Thirty-three others were denied out-of-district enrollment across a school district that experienced a 3 percent increase in enrollment over last year.
THE SPACE FACTOR
LES principal Tim Newton received 59 applications for out-of-district enrollment at LES, where enrollment jumped nearly 7 percent over last year's rolls.
While it doesn't happen often, it is possible to receive approval for a year or more and be denied the next, Newton said. And, because each application is judged on an individual basis and per-grade level, some students' applications might be approved and their siblings' denied.
Keeping the classroom sizes around 20 students plays a key role in deciding how many out-of-district applications receive approval, according to Newton.
He said 17 of 59 LES applications were declined this year, mostly because of space.
Newton said most families cite one of two reasons for applying: Either their day care provider is within the Lansing school district or they have future plans to move within district boundaries.
Newton said those reasons make sense.
"There's a misconception that the out-of-district enrollment is just a rubber stamp just to get money for the school district," he said. "I think it's more what's best for students and families."
For example, when a family knows they will move into the district later, out-of-district enrollment prevents students from having to change schools in the middle of the year, Newton said.
Vandruff said she and her husband, Darrow, had always planned to move into the district. But with three young children and their busy schedules, that plan just hadn't taken shape.
"My husband grew up in Lansing. It's just that the process of moving got farther away," Vandruff said.
Lansing Middle School principal Kerry Brungardt said the only way to guarantee enrollment is to live within district boundaries.
He said families should consider that factor as the community continues to grow.
"I believe there's going to come a time in the very near future where we are going to be full and we're going to have to deny a majority of our out-of-district students," Brungardt said.
This year, 23 out-of-district students attend LMS, compared with 30 last year.
Brungardt said this was the first year he could remember having to cut back on the number of out-of-district enrollment approvals.
At Lansing Intermediate School, principal Jan Jorgensen said lack of space would limit future out-of-district enrollment while the school awaits the completion of the new K-5 elementary school, scheduled to open in January 2008.
"I've really run out of room here as far as classrooms go," she said. "I will be limiting out-of-district enrollment next year."
TWO-WAY STREET
District officials noted that out-of-district enrollment is a two-way street, meaning that a number of students within Lansing school district boundaries attend schools outside of the district, such as Leavenworth and Fort Leavenworth.
"We lose as many, too, as we probably gain," Jorgensen said.
No matter which district they attend, per pupil state funding follows the student.
LHS principal Steve Dike said the factor he considered "first and foremost" was how a potential student would contribute to the overall climate of the school.
"I am going to look for the kids that bring something into the school. Do they bring a high grade-point average so they can contribute academically to the climate of the school? Do they bring a long record of service - through Kays or something like that? What else do they bring?" Dike said.
He said some districts might use the process to glean athletes from other districts, but that's not his practice.
However, Dike said, athletes with solid academic backgrounds who were involved in their school in other ways could benefit all students.
Dike said growth in the district had led to perception issues about the process.
"We've got a structured school here and a sound academic environment, and we want to protect that at all costs. We're very careful in making sure that we don't take on more than we can handle," he said.
Meanwhile, Vandruff said she would continue volunteering her time with the PTA, even while Connor attends Muncie Elementary School in Leavenworth.
Vandruff said she wasn't doing it for "kudos," but she would fulfill the promise she made until enough volunteers filled every key position within the association.
"We were fully aware of the consequences of not getting in," Vandruff said. "I'd love to be helping more at my son's school, but I'm committed to this until I'm sure everything's taken care of."