4-year-old recovering from attack
Victim's mother has mixed emotions about pit bull mix that bit her son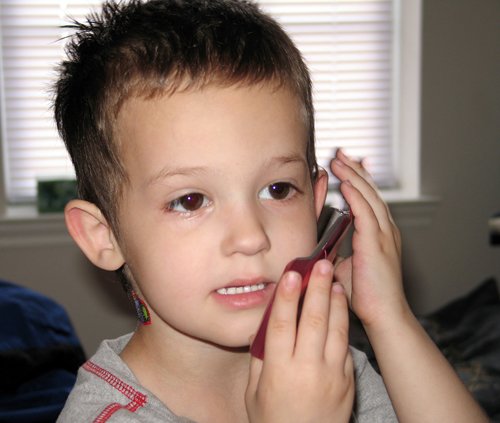 One week after a pit bull terrier mix bit a Lansing child, the victim's mother says she feels both anger and empathy toward the dog's owner.
Zachary Thomas, 4, suffered bite wounds to his head, neck, shoulder blades and back Thursday afternoon, Sept. 28, outside his family's apartment at Lansing Heights Townhomes near Main and West Mary streets.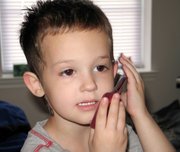 Police apprehended the dog and transported it to Leavenworth Animal Shelter for a 10-day quarantine.
Lansing Police issued seven citations at the scene to the dog's owner, Erica Andrews, 20, who lives in an apartment south of the Thomases.
During the incident, Scott and Mary Thomas, Zachary's parents, were at Children's Mercy Hospital in Kansas City with their 7-month-old son, who had heart surgery Sept. 26.
The parents learned about Zachary's injuries by phone after he was treated and released at a Leavenworth hospital.
When Mary Thomas first heard about her son's injuries, she said, she thought the dog should be euthanized. But as time goes on and Zachary's wounds heal, Mary Thomas said there are no easy answers.
"I'm angry about it. It shouldn't have happened," Thomas said. "At the same time, I know how I would feel if that was our dog. From everything I've heard from everybody, it sounds like it was an accident."
Andrews said the dog left the apartment on its own while her 7-year-old sister was visiting.
"She thought she had shut the door. It creaked open when she was upstairs going to the restroom, and that's when he went outside. It all happened in a matter of seconds," Andrews said.
Zachary's maternal grandmother, Wilma Adams, was baby-sitting the victim, his 5-year-old sister and a 3-year-old cousin Thursday afternoon when the group made plans to walk to a nearby neighbor's house.
Adams, Leavenworth, said she was helping the 3-year-old put on his shoes when Zachary and his sister walked out the front door.
About 30 seconds passed before Adams said she knew something was wrong.
"I heard screaming, and as I turned around, the doorknob started wiggling," she said. "The horror going through my mind was unbelievable."
When she opened the door, Adams said, the dog was standing at Zachary's side.
"This was a totally unprovoked attack. All he did was walk out that door," Adams said.
Andrews said she had owned the 2-year-old dog since he was a puppy, but he often stayed with her parents or friends in Missouri.
"I felt horrible when it happened. He's been around kids, my little sister and little brother," she said. "He's never attacked a little kid or anything like that."
Andrews' parents had left the dog with Andrews a day or two before the incident, she said.
But Thomas said that never should have happened because Lansing Heights Townhomes' policies don't allow animals that have been deemed vicious or pets that weigh more than 50 pounds.
Manager Tina Orth said all residents receive a pet policy when they move in but wouldn't provide details of the policy.
She referred further questions to the property's owner, Wilhoit Properties in Springfield, Mo. Phone messages left with the company were not returned.
Andrews, who moved into the apartment a month and a half ago, said she hadn't spoken with management before the dog arrived last week. And, she said, the dog weighs just less than 50 pounds.
VICIOUS DOG ORDINANCE
Lansing does not outlaw pit bulls or mixed pit bull breeds, but the city has had a vicious dog ordinance since 1986.
Lansing city code defines a vicious dog as "any dog which by virtue of its breed, training, characteristics, behavior or other factors the owner or custodian thereof knows or has reason to know has a propensity, tendency or disposition to attack unprovoked, to cause injury or to otherwise endanger the safety of human beings, domestic pets or livestock."
The ordinance specifically mentions pit bulls and mixed pit bull breeds.
Owners of vicious dogs are required to maintain an insurance policy of not less than $200,000 per incident against any claim, loss, damage or injury to any human being, any property, domestic pet or livestock resulting from the dog's attack. Owners of vicious dogs must comply with leash, muzzle, signage and registration restrictions as well.
Lansing Police Chief Steve Wayman said the responsibility to know and obey the law rests with pet owners - whether they're new to the city or longtime residents. Even if they follow the law, dog owners could be still be sued in civil court.
Wayman said Andrews was due in Lansing Municipal Court on Nov. 1 to respond to the seven citations police issued at the scene.
Three of the citations - dog running at large, no proof of vaccinations and no proof of animal registration - carry a $75 fine each.
If Andrews is found guilty, the four remaining citations could each carry up to a $1,000 fine and/or up to six months in jail, Wayman said. Those are: no proof of vicious animal registration, no proof of insurance for a vicious animal, no "beware of dog" signs posted and no leash or muzzle.
Zachary's mother said she's most concerned about her son's health. Thomas worries Zachary will have to endure a long series of rabies shots if Andrews doesn't produce proof of the dog's vaccinations.
Andrews said she could provide proof that her dog had been vaccinated and she was confident that citations would be dismissed.
She said she wasn't sure what would happen to the dog when it leaves the shelter early next week, but she knows it can't live with her at Lansing Heights.
Thomas said no matter what happens, the time had come for pet owners to assume responsibility.
"Honestly, I think an example needs to be made, and I hate that she has to be the one, but there have been way too many pit bull attacks in the Kansas City area," she said. "It's just happened too much. It seems to me that people have gotten very careless about taking care of their pets."
But Andrews said she still had difficulty seeing the "vicious" side of her dog portrayed in some news reports about the incident.
"I'm still worried about the fact that he bit someone. That worries me," she said. "It made me feel horrible - to be that person.
"I never thought I would be someone that would be in the news. I'm just happy the little boy is OK."