Lansing
JV

defends

KVL

title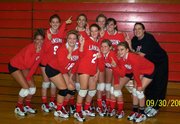 The Lansing High junior varsity volleyball team won the Kaw Valley League Tournament title Saturday. It marks the second straight year LHS has won the tournament.
Lansing turned in a strong showing in pool play as it stomped Immaculata, 25-10, 25-11, and Perry, 25-22, 25-16, and earned ties against Santa Fe Trail and Basehor-Linwood. The 2-0-2 record in pool play earned the Lions a first-place finish in their pool. That means they advanced to a four-team bracket to play for the championship.
Lansing faced off with Bishop Ward in the semifinals and won handily, 25-18, 25-21. That set up a showdown with Mill Valley in the finals. The match was hard-fought, but Lansing won, 26-24, 25-22, and claimed the championship.
Team members are sophomores Brooke Didde, Dee Dee Clifford, Katie Cristiano, Megan Grimm, Ashley Dalbey, Keasla Hundley and Taylar Deere and freshmen Meghan Reilly and Lisa Angello. They are coached by Amy Turner.
The league tournament title was the latest step in what has been a strong season so far. Lansing is 20-4-2 heading into its season finale at 5 p.m. Tuesday at Johnsmeyer Gymnasium. LHS will play Perry-Lecompton and Basehor-Linwood.