Lansing stuns Tongie
Lions upend Class 4A's No. 3-ranked team in volleyball showdown
Shawnee — One week after Lansing High volleyball coach Julie Slater called out her team because it "gave up" in a match, the Lions proved exactly why they never should count themselves out against anybody.
Trailing rival Tonganoxie by four points late in game two, Lansing was on the verge of losing to Tongie for the first time in about a decade. The Chieftains were in control and the Lions were out of sync. Instead of folding, however, they regrouped and showed the poise of a team worthy of a state tournament berth. They erupted for a game-winning 10-1 run, and then captured the match with a dominating effort in game three.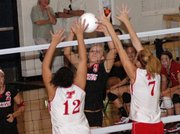 After beating Tonganoxie, 18-25, 25-20, 25-20, Lansing lost to Mill Valley, 25-18, 25-22. Although the Lions split their matches, Slater said her primary interest was on her players' mindset.
"That was much better than last week," Slater said, referencing her squad's dismal three-game loss to Piper. "The effort against both teams was there tonight. In the net we just made too many mistakes (against Mill Valley), and that happens, but that's not what I'm concerned about. I'm concerned about the heart and effort, and it was there tonight."
Tonganoxie dominated game one and maintained a four-point cushion or more almost the entire way. THS then raced to a 14-6 lead in game two and appeared to be on its way to an easy victory. Lansing eventually inched back into the match behind a pair of Jessie Delinger kills and a few Tongie mistakes that trimmed the deficit to 19-15.
Back within striking distance, the Lions pounced. Brittney Lang served an ace, freshman Lisa Angello - in her varsity debut - put down two kills and freshman Rachel Milnark caught fire with four more. After a 10-1 run, the Lions were even at a game apiece.
Photo Gallery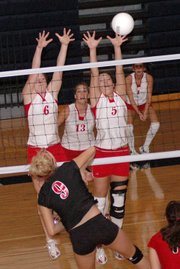 Lansing takes down Tonganoxie in volleyball
The outcome of three was never in doubt. Lansing surged to an 11-5 lead and never looked back.
"They've proved they can beat anybody by beating a team that's 23-2," Slater said of beating the No. 3-ranked team in Class 4A.
Lansing struggled with consistency against Mill Valley as the Jaguars rode the adrenaline rush of Senior Night. Although the Lions didn't beat the Jaguars, Slater said she was pleased with how hard her team played.
"The effort was incredible," she said. "We had some great rallies, and I see signs of brilliance from my team. We just need to keep working and try to stay up at that top level."
Even more important to Slater was the fact that her squad played as a team.
"Kristen Jensen and our setters were just great; Sara Logan came up with some huge plays : some great assists and a couple of kills; that's just exciting when everybody's doing their job," Slater said.
The Lions used a balanced attack in every category. Breanne Sanders had a team-high 19 assists and Jensen added 17. Riann Deere had 28 digs, Morgan Chiles had 12 and Rachel Milnark added 10. Delinger had a team-high 14 kills, Milnark had nine and Lang and Angello added eight apiece.
Lansing (18-9) next plays at 5 p.m. Tuesday at Johnsmeyer Gymnasium against Perry-Lecompton and Basehor-Linwood. It will be Senior/Parent Night.