Sneak peek at state
Lansing runners hold their own at Rim Rock Farm
Lawrence — Lansing High cross country coach Errol Logue was beside himself Saturday after watching his runners compete at the Rim Rock Farm Classic.
The meet was Lansing's third in six days, and Logue said he expected weary legs to take their toll on his runners. After the race, however, he was impressed by just how much toughness his squad displayed on the course where the Class 5A state meet will take place Oct. 28.
Photo Gallery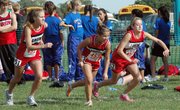 Lansing runners compete at Rim Rock Farm Classic
"The thing I'm pleased with is we come over here and I'm the only one talking about being tired," Logue said. "Nobody was moaning or complaining. After the race they said, 'Boy, it got to the point where all I could do was put one foot in front of the other, but I wasn't going to give up.' That's why I enjoy working with this bunch. They're not the fastest kids in Kansas, but they sure work hard. After three races this week, they still came over here and did their best."
For the LHS trio in the varsity girls race, all three runners came within a few strides of having the fastest times of their careers.
Freshman Lauren Jaqua led the way for Lansing in the four-kilometer race by placing 18th in 16 minutes, 57 seconds - 17 seconds off her career-best and school-record time that she set Thursday when she won the Lansing Invitational. Kristin Strecker of Topeka Hayden won Saturday's race in 16:06.
Jaqua has spent the past few weeks focusing on developing her own racing strategy rather than worrying about what other runners do. She took more steps toward perfecting her plan at Rim Rock by bolting early with the lead pack, settling into her pace during the second mile and then outkicking other runners during the final half-mile. The top 25 runners medaled, and Jaqua was among that group from start to finish.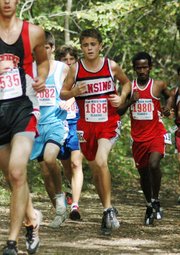 "I just kept telling myself this was my third race this week and that it's a tough course, but that I still have to go my pace," she said. "I did it even though it was really, really hard."
Senior Lori Flippo turned in her second-fastest performance of the year by placing 45th in 18:11. Her time was just five seconds shy of her career-best that she ran five days earlier at Tonganoxie. Flippo found herself buried in the pack early but made a steady march forward and passed about 20 runners in the final mile - including teammate Abbey Lozenski, who placed 48th in 18:21.
Flippo credited Lozenski with helping her achieve such a fast time.
"I was looking to her the entire race, just trying to find her throughout the race," Flippo said. "I knew that if I could keep up with her, I'd be OK."
Lansing didn't fare quite so well in the five-kilometer boys race. Maranatha Academy's Zach Zarda won the race in 16:39. Freshman Brandon Craig was the top LHS runner. He placed 51st in 19:09. Griffin Davis placed 79th in 19:48, Matt McCurry was 95th in 20:12, Wes Appleget finished 109th in 20:52, Trenton Dorf was 111th in 20:58 and Brandon Mills finished 129th in 21:56.
Rim Rock Farm is the site of the annual Class 5A and 6A state meets, so Saturday served as a sneak peek at the course for Lansing. LHS will compete in a difficult regional that includes powerhouse programs St. Thomas Aquinas and Bishop Miege, so the Lions will have a tough task at qualifying a full team for state. If that doesn't happen, however, it's reasonable to believe a number of Lions could qualify individually for the meet. Just in case, the Lions paid close attention to the course and took good notes.
"I'm just glad that I've seen the terrain," Lozenski said. "You can walk a course as many times as you want, but you're never going to know until you actually run it what it feels like, so to actually run it and know where the killer parts of the race are is a really big advantage if we come back again."
Lansing competes at 4 p.m. today at the Pleasant Ridge Invitational. Then it's off to the Kaw Valley League championships on Oct. 12.
REGIONALS AT A GLANCE
LHS found out Friday who it will compete against Oct. 21 at the Class 5A regional meet. Bonner Springs, Gardner-Edgerton, Harmon, Schlagle, Sumner Academy, Turner, Wyandotte, St. Thomas Aquinas, Bishop Miege and Mill Valley will join Lansing at Shawnee Mission Park in Lenexa. The girls race will begin at 11 a.m. The boys are scheduled to start at 11:30 a.m.
FIRST TITLE
Four days after breaking the school record in the four-kilometer race at the Tonganoxie Invitational, LHS freshman Lauren Jaqua earned her first prep championship Thursday at the Lansing Invitational.
Jaqua blazed the course at the University of St. Mary in 16:40 - nine seconds faster than her previous record time.