Woods, Jags have Lions' attention
Future K-State football player will test
LHS

defense
The Mill Valley football team did its best to be unpredictable two weeks ago when it squared off with Tonganoxie in a clash of Kaw Valley League unbeatens.
The Jaguars opted to take the ball out of the hands of Kansas State-bound all-state running back Justin Woods and pass instead. They hoped to catch the Chieftains off-balance. Instead, the plan backfired and the Chieftains rolled to a 28-7 victory.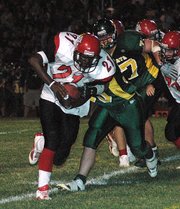 The odds are good Mill Valley won't make a similar mistake again when it plays host to Lansing High at 7 p.m. Friday in Shawnee. That's at least what LHS is expecting. Woods romped for 224 yards on 22 carries last year when the Jaguars beat the Lions, 28-21.
"We've got to stay focused and prepare for Justin Woods," said Stephen Didde, a Lansing junior who starts on both offense and defense. "We've got to prepare for that outside containment. That's a big deal. We've just got to watch Justin Woods. If we contain that, we'll be fine because the defense is stepping up."
If Lansing (2-3 overall, 2-3 KVL) is going to win Friday, it will have to rely on another dominant defensive effort. The Lions have simply locked down their opponents for most of the last three weeks. In fact, they limited Basehor to just 105 yards of total offense Friday, Sept. 29, during a 13-6 overtime victory.
"We've given up 13 points in the last 10 quarters, so we're playing pretty good defense," LHS coach Bill Pekarek said. "That's what we want and expect."
Tim Torchio snagged a pair of interceptions and junior linebacker David Dickson made a team-high 14 tackles to lead the Lions on defense. Sophomore Tyler Strouhal and junior Mycol Bowen each recovered a fumble.
Although the Lansing defense has been stellar, Pekarek said the offense needed to be more efficient.
"I just wish we were a little more consistent on offense and could move the ball better than we did," he said.
Lansing had success moving the ball against Basehor, but the Lions simply weren't consistent enough to put points on the board.
Senior Kyle Grape had 46 yards rushing on 13 carries before leaving the game with an ankle injury late in the third quarter. His status for this week's game in uncertain. Junior Chris Hill took over for Grape and provided an instant spark by rushing for 40 yards on nine carries.
The game against Mill Valley (4-1, 4-1) is Lansing's final KVL contest of the season. LHS begins Class 5A district play next week. It won its Class 4A district each of the last two seasons before making the move to 5A this year.