Where there's a Woods, there's a way
Mill Valley senior scores two fourth-quarter touchdowns, snaps Lansing's winning streak at two
Shawnee — Justin Woods wasn't the game's leading rusher Friday night, but the Kansas State signee from Mill Valley still found a way to beat the Lansing High football team.
Woods, a speedy all-state running back, rushed for 176 yards on 20 carries, but it was his touchdown scampers of 57 and 40 yards that made the difference.
Photo Gallery
Mill Valley tops Lansing, 14-0
Woods' scores also were enough to offset Lansing junior Chris Hill's electrifying 179-yard rushing effort. Despite Hill's big performance, Lansing managed to reach the red zone just once.
"It's execution," Hill said of the Lions' inability to score. "When we get down there, we just have to execute the plays and we have to put it in there."
For the first three-plus quarters, Lansing executed its offense far better than Mill Valley, although neither team managed to score.
Rather than handing the ball to Woods on every play like it did last year, Mill Valley opted to spread the ball amongst three running backs while also allowing quarterback Trey Scott to scramble and pass. That strategy didn't work very well. The Jaguars never made it inside the Lions' 40-yard line in the first half and Woods had just 19 yards on nine carries.
At the same time Mill Valley was struggling to move the ball, Lansing had slightly better success. Hill rushed eight times for 57 yards in the first two quarters, but the Lions mustered just one quality drive.
"Our defense is playing good. We shut 'em down quite a few times," LHS coach Bill Pekarek said. "On offense we just aren't executing at times, and it's just killing us. We were moving the ball really well, running inside and outside. (Brad) Terron came in at fullback and did a real good job blocking. Hill was running and getting lots of yards. Then we'd get down there and do a nothing play. You've got to keep it moving and make a play."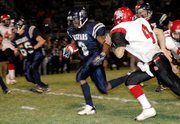 Both teams adopted the same philosophy in the second half: give the ball to the fast guy. Woods and Hill each had more touches in the third quarter, and both backs quickly piled up yardage. Hill collected 37 yards on a string of four straight runs. He also popped free for a 27-yard run that was keyed by solid lead blocks from Terron and wide receiver Brad Zink. Woods broke off a 34-yard scamper and caught a pass for a 14-yard gain. Still, neither team managed to score. Mill Valley ended two drives with missed field goals. Lansing's drives ended with a punt and an interception.
When the fourth quarter arrived, it was time for the Woods show to take center stage. He'd been corralled by the Lansing defense all night, but Woods rushed for 123 yards in the final quarter. A majority of those yards came on the two long touchdowns. The first score came with 7:46 left. Woods got the ball on a toss play to the left. He followed his blockers, slipped to the sideline and then cut back to the inside to avoid a few would-be tacklers along his way to a 57-yard touchdown. Woods actually stepped out of bounds at the 40-yard line, but it went unnoticed.
It turns out the missed call likely didn't matter. Woods was just getting warmed up. Lansing mustered a brief drive on its ensuing possession before turning the ball over on downs. Then Woods went back to work. On the third play of Mill Valley's next drive, he received the ball on another toss play to the left. This time he cut back up the middle and sprinted 40 yards untouched to the end zone. Zak King's extra point made it 14-0 with 3:42 left.
"He's pretty good," LHS junior lineman Mycol Bowen said. "Both of those runs were all him."
Lansing was unable to answer either of Woods' runs because its offense became one-dimensional. Hill and Terron were effective out of the backfield, but the Lions' passing game was nonexistent. Starting quarterback J.T. Collins completed just one of 13 passes. That one completion came with 2:48 left in the game. Backup quarterback Bobby Hauver came in shortly thereafter and completed a pass to Zink for a 17-yard gain.
Lansing (2-4 overall, 2-4 Kaw Valley League) will try to muster some offense to go with its stellar defense when it plays host to Shawnee Heights at 7 p.m. Friday at Frank Graham Field in the first game of Class 5A district play. The game will be Lansing's first postseason football contest ever in 5A after winning back-to-back district titles in 4A. Heights is 3-3 and lost Friday to Junction City, 20-13.
NOTES
- Chris Hill started at running back Friday night because regular starter Kyle Grape was out with an injury. Grape tore his anterior cruciate ligament Sept. 29 during Lansing's 13-6 overtime victory at Basehor-Linwood. Hill made the most of his opportunity by rushing for 179 yards the most by any LHS player this season.
- Lansing's three pass completions Friday two by Bobby Hauver and one by J.T. Collins were the Lions' lowest total of the season.
- Justin Woods rushed for 176 yards and two touchdowns on 20 carries. That was down from his 224-yard total against LHS in 2005.
- Mill Valley outgained Lansing in total offense, 309-284.
- Joe Kohl led the Lansing defense with a team-high 12 tackles. David Dickson had nine, Justin Smith had seven, Tyler Strouhal made six stops and Angelo Barron had five.
- David Dickson and Justin Smith each recovered fumbles for Lansing.