Familiar territory
Lions haven't lost in district playoffs since 2003 season
A 2-4 record isn't exactly the mark the Lansing High football team hoped to tote into the Class 5A district playoffs.
Fortunately for the Lions, that record is meaningless as far as the playoffs are concerned. The district is considered a new season in Kansas high school football, so only those three games factor into a team's postseason hopes.
"That's the thing about the playoffs in this state; you can play well the last three and have a chance to make the playoffs," LHS coach Bill Pekarek said. "This is like a second season for us. We're not proud of the record we have. We feel like we should be 4-2 or 5-1, but we're not, so we're just going to have to keep playing hard and hopefully we'll get some of these guys in the district."
Lansing's district opponents are Tecumseh-Shawnee Heights (3-3), KC-Washington (3-3) and KC-Schlagle (5-1). The first two of those games are at home, beginning at 7 p.m. Friday against Shawnee Heights.
Heights is a hard team to figure out. Its three wins are against teams with a combined 2-16 record. Its three losses are against opponents with a combined 14-4 mark.
Traditionally one of Class 5A's bottom-tier programs, the T-Birds advanced to the state playoffs last year and returned a dual-threat quarterback in Tyler Herl. Herl has completed 77 of 144 passes for 700 yards this season. He also has thrown 10 interceptions. In addition, he has 351 rushing yards on 86 carries. Running back Austin Flohrschutz has been a nice compliment to the offense with 339 yards rushing on 43 carries.
The biggest knock against Heights - other than the quality of teams it has beaten - is that it is prone to turnovers. That could work in Lansing's favor. The Lions' defense is among the best in the Kaw Valley League at forcing turnovers and stopping the run. In fact, prior to giving up a pair of fourth-quarter touchdowns by Justin Woods during a 14-0 loss to Mill Valley on Friday, the Lions had allowed just 13 points in the previous 13 quarters combined.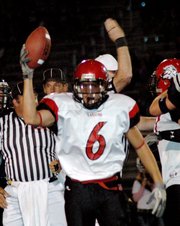 "The defense is playing well enough for us to win a lot of football games," Pekarek said.
Unfortunately for Lansing, the offense isn't. LHS scored just 13 points in an overtime victory over Basehor-Linwood on Sept. 29 and then was shut out by Mill Valley.
Although the Lions have had trouble scoring points, they haven't had any problems moving the football. Senior running back Kyle Grape had strung together a series of strong performances before tearing his anterior cruciate ligament late in the third quarter against Basehor. Junior Chris Hill has proved to be a worthy successor. He ran for 40 yards in the final quarter against Basehor and then exploded for 179 yards against Mill Valley.
Hill said his effectiveness was the byproduct of good blocking by the offensive line and the fullbacks.
"The line blocked and I had holes to run through," Hill said. "The fullbacks did a great job. Daniel Eyerly and Brad Terron both did a great job. I just followed them and it opened up."
Regardless of Lansing's inability to score in recent outings, the fact remains that Friday's contest marks the start of the second season, and the Lions' recent history is loaded with success this time of year. They won back-to-back Class 4A district titles in 2004 and 2005. They also haven't lost a district game since 2003.
Friday represents Lansing's football debut in Class 5A, and junior lineman Mycol Bowen said the Lions hope to do their part to keep that winning tradition alive.
"I feel a lot of pressure," he admitted. "We want to win districts really bad. That's our chance to prove ourselves."