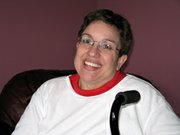 When doctors diagnosed her with multiple sclerosis in 2001, Linda Harriss was relieved. She'd spent months suffering from symptoms with no apparent cause.
"I could put a name to it and I thought, OK, now I know what this is. Because I knew something wasn't right," Harriss said. "My arms were falling asleep and I had a burning in my legs."
The diagnosis carried hope for solving her worsening condition, but it would lead to a greater complication. After a blood test at the Mayo Clinic, Harriss learned that she was immune to the standard MS medications. Typical treatments would be ineffective.
Even as the MS clouded her eyesight and the world around her darkened, Harriss' passion for teaching gave her strength - until this fall, when Harriss decided to take a year off to battle MS head-on. It was hard for Harriss to see the school year start without her.
"This is the first time in like 45 years that I have not had a first day of school," Harriss said.
Faith and determination to return to teaching has helped her through a gamut of specialized treatments. She's marked a goal for returning to teaching: next fall.
"I can't wait. I mean, kids, learning, teaching: That's my passion. It really is. I want to do something when I'm strong enough to," Harriss said.
And she's already regaining strength. A new treatment has improved her vision and stamina. Harriss has no doubt she'll make it back to school next fall.
Harriss credits the support from her husband, son and friends for her positive outlook.
"I have got the attitude that you don't have to look very far to find someone who's worse off," she said. "This is nothing. It's not fun, but I can handle this."
Name: Linda Harriss
Address: 808 S. Valley
Occupation: Teacher
Graduate of: University of Northern Iowa and University of St. Mary
Family: John, husband; Kyle, son
How long have you lived in Lansing and what brought you here? 12 years, my husband. We stayed here because we really like Lansing, we liked the education that our son was getting.
What do you like most about Lansing? The people are friendly and helpful and the atmosphere.
What do you do for fun? I read a lot and I'm very involved in my son's activities.
What would surprise people about you? I used to be very sports active and I can't be anymore. And I think that may surprise people.
What's the best advice you've ever received? Be honest, and always say please and thank you.