Kansas struggles with rural depopulation
Caruso — Waiting to deliver a load of sunflowers at a processing plant, dryland farmer Tim Peterson was of two minds about rural Kansas.
On one hand, some folks rooted in the vast stretches of empty landscape have become energized by innovation and entrepreneurship, he said.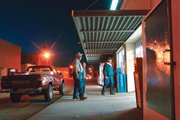 On the other hand, global market forces are consolidating family farms into ever-growing corporate farms, chasing the population away.
"We're fighting what's going on globally. This is happening in all the industrial countries - increased urbanization, increased concentration of land in fewer and fewer hands," Peterson said.
Not keeping pace
Kansas is a poster child for migration out of the rural areas. Fifty-four of the state's 105 counties have less population now than in 1900. Fifty counties lost population between 1990 and 2000, 12 by more than 10 percent.
When William Allen White wrote his famous "What's the matter with Kansas?" screed in 1896, he complained about eight years of slow population growth.
"Little does he know that it is going to go on for the next 110 years," said Jim Hays, a research specialist for the Kansas Association of School Boards. "How quickly the world changed. The Kansas of the late 19th century - the growth, the vigor - it quickly changed. We had eight members of Congress back then, now we have four, and we're probably going to go down to three in the next census," he said.
According to Hays' research, in 1890, Kansas had 2.27 percent of the United States' population. Today that has decreased to less than 1 percent.
So-called frontier and rural counties continue to lose population while urban and semi-urban counties gain.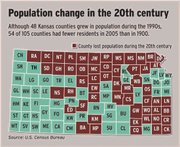 Leaders wanted
Trying to stem the migration, Laura McClure of Osborne spends most of her waking hours promoting rural Kansas.
It's a tough job. She said some communities were moving forward and others weren't. Countless studies have been done on why that is, but none seem to have a definitive answer.
But McClure said it came down to local leadership.
"The biggest asset that communities have to have are leaders," she said.
"You can drive into a community and you can tell by the attitude, what the people are saying, if there is strong leadership that has hope and vision," she said.
She said Osborne County, which has about 4,200 residents, had seen some young families returning for the easier pace of life and safety. Connected to their jobs by the Internet, she said, they earn a living out of their homes thanks to broadband access.
For example, a family company in Downs competes worldwide in advertising and marketing farm equipment, she said.
Why care?
But with market forces driving people to leave western Kansas and many other rural areas, is there any reason to try to stop the migration?
In the 1980s, professors Frank and Deborah Popper raised hackles by saying the Great Plains should be given back to the buffalo. They said the population declines were inevitable because modern agriculture required fewer people and eventually agriculture on the plains would be unsustainable because of dwindling groundwater resources.
But Terry Woodbury, a consultant for small communities, said society needed rural, small-town and isolated parts of Kansas.
Woodbury splits his time between two worlds, living in an apartment loft in Kansas City, Kan., and his ranch in Wichita County.
When he speaks to urban high-rollers, he asks for a show of hands of how many grew up in small towns. Always, more than half of them had, he said.
Then he asks them to recall their childhood and say whether they believe their children, now living in cities and suburbs, were experiencing as full a life. The answer is invariably no, he said.
"If we are abandoning our small towns where our core values of neighboring and community are formed, we will have a society that is in real trouble in 50 years," he said.
Woodbury has a missionary zeal to "rebuild the public square."
Getting small communities back on their feet, engaged in their futures, will produce the leadership needed to tackle the real issues confronting our society, such as the ones brought up by the Poppers, he said.
Currently, he said, there is too much cynicism and single-interest politics, which in turn chases away quality leaders from politics.
But he said he was optimistic that as small communities grapple with the tough issues of surviving, they will produce the kind of leaders that can help meet society's future problems.
"Anything is possible if you have a dozen people who have dedicated themselves.
"In these communities, I find incredible human beings at work. They have everything at stake, their life, history, future savings. It's all on the line," he said.
Peterson, the farmer in western Kansas, said he had tried to adjust to the market forces. He plants corn and milo and said his 400 acres of sunflowers were used for a specialty food oil low in trans fats.
"There are isolated pockets of local people taking control on what is going on," he said.