Real-life lessons
Breast cancer survivor talks to Kayettes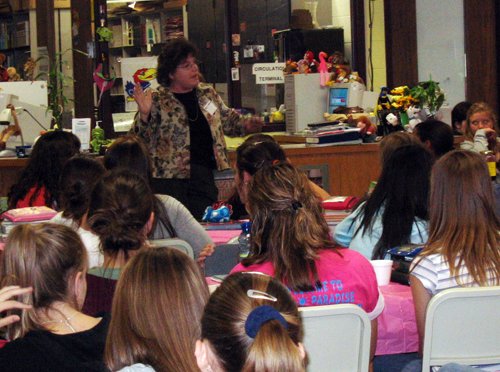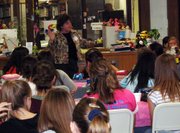 Kim Cupp has logged countless hours sharing her story of survival with other adults.
After battling melanoma in 1990 at the age of 28 and breast cancer in 2002, Cupp participated in the Kansas City Cancer Center's ad campaign to help raise awareness of breast cancer in the Kansas City area.
Cupp appeared in TV commercials, The Kansas City Star and even visited the Kansas City Chiefs locker room to tout the benefits of early detection, self-exams and mammography.
But Wednesday marked a high point in Cupp's quest to inform others about the disease when she and her husband, Shawn Cupp, related their experiences to the Lansing High School Kayettes.
It was the first time the Leavenworth couple, married for 19 years, had shared the message with a group of teens.
And Kim Cupp said the day was even more special because their daughter, LHS freshman Kayla Cupp, belongs to the Kayettes, an all-female organization.
Kim Cupp commended the group for shedding light on a disease that can attack males and females, young or old.
"Our awareness of our bodies and the things that can attack us needs to start when we're quite young," she said. "What you can do right now : you need to do breast self-exam. It's very simple to do."
Kim Cupp told the teens that her aunt learned she had breast cancer at the age of 28 and didn't make it to 29.
"Unfortunately, breast cancer doesn't wait until you're 40 when mammograms start. Breast cancer can get you anytime," she said.
Shawn Cupp told the group that a sense of humor and supporting loved ones with the disease played a key role in survival.
"Many of you are going to be faced with it, either with a mother, your grandmother or an aunt. Some of you have already been faced with it," he said.
He explained the plethora of emotions he felt when they learned Kim had cancer.
He talked of feeling angry, powerless and overwhelmed at times.
"I felt hopeless. You really can't do a whole lot. You can go to the doctor's appointments, you can go to all the tests, you can be there during the surgery, but you can't really do anything except support them - to be there for them," he said.
But now, he said, sharing the story helps the couple.
"This makes us feel good when we can share our life experience with someone else, even though it might not be a good life experience. It helps us," he said.
Sophomore Jenny Curatola invited the Cupps to tell their story to the Kayettes during two presentations Wednesday. She said it was important for teens to learn more about the causes taken up by the group.
"I think they need to understand they're at risk and be willing to help other people," she said.
During National Breast Cancer Awareness Month in October, the Kayettes will collect money for the Susan G. Komen Breast Cancer Foundation through the group's annual Trick or Treat for Breast Cancer fundraiser.
Kayettes will attend Saturday's Autumn in the Grove festival at Kelly Grove Park and visit neighborhood homes Oct. 25 and 26, in hopes of topping last year's record-setting amount of $900 in donations.
At times, laughter and a few tears filled the room as Kim Cupp told the teens how the disease had affected her and her family.
Kim shared the milestone she and her daughter, Kayla, reached on the day the two would have their first real hug after her mastectomy.
"She asked me to come to school and give her a hug, because that was the first time I would be able to wrap my arms around her since the surgery," Kim Cupp said. "She had to wait two weeks for that."
Freshman Mazie Herzog said she appreciated the Cupps' willingness to talk about cancer with the Kayettes.
"The information they gave us was good information to know because we could be faced with this problem," she said. "My grandma was diagnosed with breast cancer and my mom is at high-risk for it, so I have a chance of getting it. I do need to know as much as I can about it."