Work on auditorium causes shifts at high school
Parking was at a premium before the Lansing School Board meeting Tuesday night, but it wasn't due to a heavy agenda.
Those attending the Lansing High School volleyball team's Senior/Parent Night filled most of the parking spots near the high school.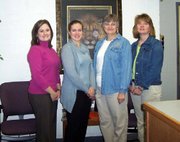 Lansing school district patrons got their first taste of parking challenges at LHS on Tuesday - one day after district officials closed Lion Lane north of the football field.
The street closed to the public Monday and will remain closed during construction of a new auditorium, which district officials expect completion of by Jan. 15, 2008. Only construction vehicles will have access to Lion Lane.
The construction has reduced parking by approximately 120 parking spots.
Normally held on the second Monday each month at Lansing Middle School, the school board meeting's day and location were changed to accommodate the Columbus Day holiday Monday and the LMS choirs' concert Tuesday.
Superintendent Randal Bagby told the board that with all the construction permits now in hand and construction meetings every other week, the project to build a new elementary school and high school auditorium and band room was well under way.
"As you noticed when you came here this evening, we lost a lot of parking spaces," he said. "We have fence up, and we have dirt moving, and you're going to see asphalt being torn up out there in the parking lot pretty soon."
Bagby said photographs of the construction could be viewed online at usd469.net/ album/index. Webcams will be installed at the elementary school site on West Mary Street after electricity is accessible.
TEACHER AWARDS
Jan Jorgensen, Lansing Intermediate School principal, recognized fifth-grade teachers Debbie Beall and Barb Alonzi, and fourth-grade teachers Felicia Yoakam and Lisa Dewane at Tuesday's meeting.
The teachers were nominated for the 2005-'06 edition of "Who's Who Among America's Teachers." The publication honors educators nominated by students listed in "Who's Who Among American High School Students," "Who's Who Among American High School Students Sports Edition" and students named in The National Dean's List.
Jorgensen also announced the school had nominated Yoakam for the Kansas Horizon Award, sponsored by the Kansas Department of Education. The award recognizes exemplary first-year elementary and secondary teachers across Kansas. A winner will be announced later in the school year.
Board members Rob Nicholas, Craig Gephart and Richard Whitlow were absent from Tuesday's meeting.
In other action Tuesday, the board:
¢ Heard an acknowledgment from LHS principal Steve Dike. Dike acknowledged Drama Club sponsor Carla Scovill and LHS students for their production of "The Odd Couple" Oct. 5 and 6.
¢ Approved a financial audit report by the firm Bogner Accounting. The report noted that activity funds were still a problem because money remained in high school textbook fee accounts at year's end that should have been transferred to the district. The report also noted that several funds had negative cash balances during the year and were reimbursed in June. Although the report called this "common practice" among school districts, it recommended monthly reviews and budget transfers to eliminate the problem. Bagby told board members he had addressed the concerns and would continue to do so throughout the coming year.
¢ Heard a report on enrollment numbers provided by Bagby. The report listed total district headcount this school year at 2,265.
¢ Heard a report on the construction fund.
¢ Reviewed administrative reports from the building principals. Dike told board members LHS had played host Sept. 30 to its first community health fair, an idea that came from the school's Wellness Committee. The Kayettes will sponsor a community blood drive from 7 a.m. to 1:30 p.m. Nov. 8 at the wrestling room in LHS. Students 18 and older and those 16 and older with parental consent are eligible to donate blood. Dike also provided information about Leadership's Trick or Treat for Cans food drive on Oct. 18 and Trick or Treat for Kids on Oct. 31.
¢ Accepted donations, including $200 from LHS teacher Tracey Matthews in memory of her sister, Mary Matthews, for the LHS art department; a $250 certificate from the Kansas Beef Council for beef purchases in the LHS family and consumer sciences department; and $500 from Dr. Max Pfrimmer to the athletic department.
¢ Appointed board members Beth Stevenson and Gowdy to the board's negotiation team for the 2006-'07 school year.
¢ Met in executive session for 20 minutes to discuss personnel issues.
¢ Approved applications for out-of-district students to attend Lansing schools.
¢ Approved the substitute teacher list.
As part of its consent agenda, the board:
¢ Approved minutes from the board meeting and the joint meeting of the Lansing City Council and Lansing School Board on Sept. 11.
¢ Approved bills for the month.
¢ Approved the clerk's financial, treasurer's, investment of securities and miscellaneous reports.
¢ Approved the resignation of Celine Burkett, Lansing Middle School cook.