Heights hands Lansing first district loss since 2003
Lions lose two running backs to injuries
Not a single second had ticked off the clock at Frank Graham Field and the Lansing High football team already trailed Shawnee Heights by a touchdown.
It was a mystifying start to a disheartening night as Lansing lost both of its starting running backs to injury, saw its defense collapse and eventually lost the game, 41-22, Friday night in the first game of the Class 5A district playoffs.
Photo Gallery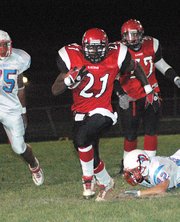 Heights bites Lansing
Lansing made its first mistake of the night on the opening kickoff. Heights' kick dropped between the upbacks and the deep returners and nobody seemed to know who would field it. The ball skipped into the endzone and a Lansing player attempted to field it. At that moment, a Heights player popped the ball loose and Dylon Stovall pounced on it for a touchdown. The T-Bird defense quickly forced another turnover on Lansing's next possession, but the Lions responded as Justin Smith recovered a fumble and ran it in from nine yards out. That tied the game at 7-7 with 10:15 left in the first quarter.
LHS fullback Daniel Eyerly went down with a knee injury late in the quarter. His absence didn't stall the Lions' offense, but it foreshadowed what was to come.
Lansing went ahead 14-7 early in the second quarter when J.T. Collins scored on a one-yard sneak. The lead didn't last long. Heights quarterback Tyler Herl connected with Roger Luedke for an 18-yard touchdown with 6:29 left in the half. The extra point was blocked, but the T-Birds were within a point.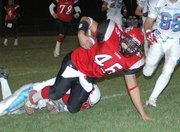 LHS attempted to rally with another drive, but it was cut short as the other half of Lansing's starting backfield - tailback Chris Hill - went down with an ankle injury with 5:10 left in the half. From there on out the Lions struggled to generate any offense.
With Lansing down on its luck, Heights capitalized. Herl connected with Luedke for a 17-yard score with 4.5 seconds left in the half. Herl then ran in the two-point conversion that made it 21-14 at the half.
"That was a key touchdown there," Heights coach Jason Swift said. "Then we capitalized by getting the ball to start the second half, and we had a great drive and put it in."
The "great drive" was a 10-play, 62-yard march that was aided heavily by 46 yards rushing by Austin Flohrschutz. Flohrschutz eventually punched in a 4-yard touchdown run that made it 27-14.
The T-Birds didn't stop there. Their defense forced a quick three-and-out, and then they scored again. Herl capped a six-minute drive with a one-yard sneak. He then intercepted a pass and set up another scoring drive. Luedke's one-yard touchdown gave Heights a 41-14 lead with 6:15 left.
"It hurt that we didn't have Hill in there as the tailback," LHS coach Bill Pekarek said of losing a running back that romped for 179 yards last week against Mill Valley. "But (Cameron) Schiller came in there and the plays he did run he ran the ball all right. It's just that we got behind so fast in the third period that we had to play catch-up and then we weren't able to keep moving the ball down the field."
Lansing finally got back on the board with 45 seconds left in the game when Collins connected with Bobby Hauver for a 28-yard touchdown. Collins then ran for the two-point conversion that made it 41-22.
Lansing next plays at 7 p.m. Friday at home against KC-Washington in another district showdown. Washington is 1-0 in district play after beating KC-Schlagle on Friday, 19-13.
NOTES
- Chris Hill rushed for 33 yards on nine carries before going down with an ankle injury during the second quarter.
- Stephen Didde made five catches for 70 yards.
- Joe Kohl caught three passes for 58 yards.
- David Dickson ld LHS with a team-high 12 tackles. Brad Terron had 10 stops. Joe Kohl made eight tackles and Tyler Strouhal and Angelo Barron each made seven tackles.
- Shawnee Heights gained 401 yards of total offense to 271 for Lansing.
- Heights was penalized 10 times for 105 yards. Lansing was flagged five times for 23 yards.