Boccie not foreign to him
How much does Mike Keohane love boccie? Answer: At least 23 tons.
Keohane first learned of the game while stationed in Greece. But when he returned to the largely Greek community of Astoria within Queens, N.Y., he realized it would be harder to get in on a game than he thought.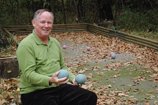 Boccie is an Italian game akin to lawn bowling. In Astoria, Keohane found it was mostly played by elderly men who competed with cutthroat determination. Keohane said he was considered too young to play.
But maybe his youth made him stubborn. After moving to Lansing, Keohane continued to look for a place to play boccie but had little luck. So he decided to build his own boccie court in his back yard.
Twenty-three tons of crushed limestone later - the amount needed for a standard court - Keohane held an unveiling party. To his knowledge, it's a unique attraction.
"I have the only boccie court in the area," Keohane said, adding, "We're going to get boccie going in the Leavenworth/ Lansing neighborhood."
Boccie fits well with Keohane's health interests too. As a nurse, Keohane hopes to create a medical ministry for St. Francis de Sales Catholic Church. The service would allow the medically trained within the congregation to share information with elderly people who attend St. Francis de Sales.
"I love working with the elderly because they are so motivated," Keohane said.
And Keohane hopes to get healthier lifestyles rolling with boccie. Because it requires finesse and strength more than speed and reflexes, it's a great game for the elderly, he said.
Name: Mike Keohane
Address: 617 Brookmeadow Drive
Occupation: Retired lieutenant colonel, registered nurse
Family: Alice, wife; Tyler, grandson, 12
How long have you lived in Lansing and what brought you here? Moved to Lansing in 1992 before retiring from the military.
What do you like most about Lansing? "Oh, the people. This neighborhood in this subdivision is at least 60 percent retired military. Retired military like to do a lot of things."
What do you do for fun? "I'm a racquetball player; I love to read and to get involved in projects."
What would surprise people about you? "Maybe that I'm a boccie player, because boccie is primarily an Italian game."
What's the best advice you've ever received? "A general officer told me, 'Never act on the first report. Always wait. Because if you act on the first report, you'll realize that the first report was either incomplete or wrong.'"
What organizations or clubs do you belong to? Rotary Club, Knights of Columbus, St. Francis de Sales Catholic Church.