Coach goes the distance
Runners help King conquer Kansas City Marathon
Melanie King's pace had slowed considerably by the time she completed mile 17 of the Kansas City Marathon.
King, the Lansing High track team's distance coach and a cross country assistant, was running her first marathon Oct. 7, and a severe case of stomach cramps was taking its toll.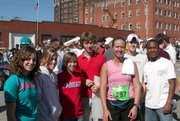 "Pretty much the last 12 miles I had stomach cramping," she said. "I think it was the Powerade I took in. I'd trained with Gatorade."
Sure enough, the veteran runner but novice marathoner had committed a cardinal sin by not training with the course's official drink.
Still, King wasn't about to let the rookie mistake keep her from reaching the finish line of the 26.2-mile race. She forged ahead and tried to forget about the pain, but it was unavoidable. The pain grew unbearable as she entered mile 18.
Suddenly she heard voices up ahead.
Cheers reverberated off the brick buildings along Emanuel Cleaver II Blvd. "Good job, coach King!" "Keep it up coach!" "You're doing great."
The encouraging words came from Lansing High students Bianca Manago, Lori Flippo and Abbey Lozenski. All are current or former runners that King has coached.
The coach mustered a smile and wave, and then continued down the road. She saw them again two miles later.
She was greeted by more familiar faces - and this time with handmade posters - when she encountered LHS runners Wes Appleget, Joe Bagby and Brandon Mills at mile 21.
The students met up with her again at mile 25 and ran with her to the finish.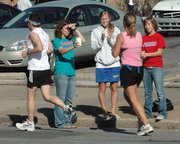 For King, the show of support was moving, and it also helped her continue moving.
"Seeing the kids from Lansing there was big," she said. "The guys had made posters and were standing on a particularly hard hill, and the girls were at another corner and had a cup of water for me. It's just amazing to me that they would take time out of their Saturday to come out and cheer me on like that. That was huge to me. It couldn't help but make me feel good.
"It's just another reminder of why I love Lansing as much as I do. It's that kind of kids that care enough to do something like that. They're such good people. That's the bottom line."
As rewarding of an experience as it was for King to complete the marathon, she said she received plenty of support throughout her journey. That journey goes back far before she ever made it to the starting line at Crown Center.
King said she first got the urge to run a marathon when she was in elementary school. Her older brother and sister both ran one, and she told herself one day she'd run one, too.
King joined the cross country and track teams at St. Thomas Aquinas as a freshman, and she made an immediate impact. She immediately became the No. 1 runner on the girls' team, and she left her legacy on the school's record board.
King stuck to the shorter distance races in college at Pittsburg State. While there, she was a three-time CoSIDA Academic All-American from 1995-1997. She also ran the fourth-fastest 800-meter time in school history (2:16.14) and the fifth-fastest 1,500-meter time (4:36.20).
After college, King mostly stuck to recreational running and the occasional five-kilometer road race. The marathon, she said, could wait until next year.
Next year almost never happened.
"A couple years ago I went through some serious respiratory problems that I thought would make me stop running completely," she said. "To come back and do this just four years later means a lot to me to know that I've accomplished this and know that I didn't put it off another year."
King decided in April that she'd run the Kansas City Marathon. She took care of some of her short runs during the week by running with the LHS track and cross country teams during practice, but the weekend long runs - some as far as 20 miles - could get lonely. That's where her father, Jim Enneking, chipped in. While his daughter ran, he paced her on his bicycle.
"It was 12 consecutive Saturdays early in the morning," King said. "As early as 6 a.m., or before that on hot days, I'd be at his house. I think it's pretty impressive that a 64-year-old man was going out doing a 20-mile bike ride with me."
After months of preparation, race day arrived and King was feeling good. She was relaxed and had a smile on her face during the early miles before the stomach cramps kicked in. Other marathoners noticed and offered encouragement.
"There were people who I'd never met until that day who were slowing down their pace for a couple miles to help me get through it," she said. "It was a very unique experience. I've run a lot of races in my life, but it's not the same as that. It's definitely a shared pain."
The support from other runners carried King most of the way. Then her students provided the final boost to help her to the finish line.
"Those last couple miles are the longest anyone will ever run," she said. "That was great having them there when I needed them the most."
She also had lots of open arms to greet her at the end. Her husband, Eddie King, one of her stepsons, a nephew, a niece and her parents met her at the finish line.
King finished the race in 4:19.10. The time was slower than she'd hoped for, but she said she's going to do something about that.
"My husband's already throwing a fit that I'm thinking about running another one," she said with a laugh. "He thinks I'm crazy for doing the first one."