Eaters pig out at rib competition
It was a vegetarian's nightmare; for others, a dream come true.
Bits of rib meat flew through the air as the men ate at a furious pace. As they shredded the 16-inch slabs of ribs with their teeth, their cheeks ballooned like chipmunks, the grease poured down their chins and barbecue sauce trickled from their fingers. They chewed as fast as they could.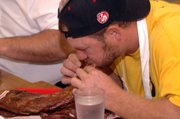 Minutes earlier, judges ushered the staff of Daniel's Bar-B-Q from the kitchen bearing tubs piled high with steaming smoky-red slabs. Each had been carefully weighed in the kitchen to ensure the competition would be precise. After all, this was a world championship round.
A handful of competitive eaters joined amateurs who entered the Sunday, Oct. 15, event. The eaters mulched the rib meat with their teeth - sometimes grabbing the slabs with two fists to rib the bones apart - and as bellies bulged, eyes in the audience grew wide. But for the professionals, there is nothing vulgar about eating ribs. In fact, it takes finesse.
"Ribs is very technique-driven, it's not capacity driven," said Arnie "Chowhound" Chapman, a semi-retired competitive eater and the event's emcee.
For foods like hotdogs and hamburgers, Chapman said, the winner is usually he or she who can stuff the most in their stomach.
But with ribs, Chapman said, "You have to do a little work to get the meat off the bone."
It presents a challenge for competitive eaters and amateurs alike, whose hunger for glory is constrained to the rules of "picnic style."
Picnic style is one set of guidelines observed by the Association of Independent Competitive Eaters, which sanctioned the event at Daniel's Bar-B-Q in Lansing. It meant that the eaters had to devour their ribs as they would at any Lansing barbecue: without utensils, straight off the bone.
And therein was the challenge. They could only remove the meat from the bone with their teeth, lips and tongue. It may seem elementary to the uninitiated, but for the "food warriors," as Chapman called them, who mustered at Daniel's, the rules meant strategy.
"Gentleman" Joe Menchetti, of Wallingford, Conn., one of three professional eaters in attendance, said he'd learned a thing or two about ribs.
"You can't spend too much time with any one rib," Menchetti said.
Photo Gallery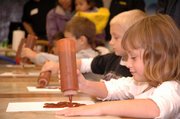 Hogtoberfest 2006
Barbecue sauce and barbecue ribs took center stage at Hogtoberfest festivities on Sunday, Oct. 15, in Lansing. Contests filled the day, including a paint with barbecue sauce contest and the main attraction: The World's Rib-Eating Contest. Here are some scenes:
Menchetti earned his nickname from his grandmother, who approved of his "gentlemanly" cleanliness even while eating competitively. But faced with ribs, even Menchetti admitted he might make a mess.
"My guess is that for a change, I'll be a slob," he said.
And while Menchetti did dirty his tuxedo shirt, he barely failed to inhale as much meat as Mark Lyle, "The Human Vacuum," of Gahanna, Ohio, who took home the title "world rib eating champion."
Lyle managed to gulp down 3.84 pounds of rib meat in 10 minutes. Menchetti fell behind with just 3.80 pounds.
Surprisingly, besides indigestion, eating so much meat so fast might not present the health risk one would expect. One of the emergency medical technicians monitoring the event, John Gilmore, supervisor for Leavenworth County EMS, said his presence was mostly in case of choking.
"I have this philosophy: You can eat healthy, stay fit and still die anyway," Gilmore said.
The chance of an eater suffering a massive heart attack was minimal.
"The content of the food wouldn't be blocking their arteries at this point," Gilmore said, pausing for a moment to think. "That would happen in a week or so."