Festival renews grove's ties to city
Kelly Grove Park, one of Lansing's newest recreation areas, had its coming out party this weekend during the inaugural "Autumn in the Grove" festival.
But long before it was a city park, the area was already a well known location - at least for older Lansing generations. Town parties were held in a clearing near Kelly Grove when the land was owned by the Carnahan family. Later, the family donated the clearing and Kelly Grove to the city of Lansing to make a park.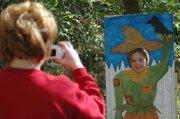 Cathy Carnahan Nichols returned from South Carolina for Autumn in the Grove, which was Saturday, Oct. 14, and was thrilled the city was keeping its connection to the place.
"I think it's wonderful to bring generations together, and this is the perfect way to do it." Nichols said. "It'd be a shame to lose the feeling of what it was like 100 years ago."
Nichols showcased a collection of old photographs and historical information about the land and its former owners, her ancestors, at a booth at Autumn in the Grove. Until that day, Nichols had stayed nearer to the clearing and the trails that are above where Kelly Grove is located.
"Matter of fact, I've never been in this section," Nichols said.
Lorraine Gluch, an assistant in the city's Economic Development/Convention and Visitors Bureau and coordinator of the event, was thrilled that so many people had come to be acquainted with the new park.
"Some people have seen it, but I've had calls from people saying, 'Where is Kelly Grove Park?'" Gluch said.
Numerous city departments helped prepare for the event, which was Lansing's first fall festival. Crafts and vendor booths speckled the trails, which snake through the wooded area. Even clearing the trails took a lot of time.
"It took everyone's help this week getting ready for this," Gluch said. "It takes a lot of coordination on a shoestring budget."
And many Lansing faces turned out for the event in the grove, which may now have reclaimed its position as a Lansing social scene.
Patricia Weaver, of Lansing, brought her daughters Megan, 5, and Mackenzie, 3, to spend a little time in the woody park. Her daughters were most entertained by the crafts and the Safe Harbor dogs, Weaver said.
"This is neat. It's like: OK, we're in the woods," Weaver said.