Freshman Jaqua is
KVL

runner-up
Kansas City, Kan. — It was the half-mile of hell for Lauren Jaqua, but the pain was worth it.
Jaqua, a Lansing High freshman, cranked her pace up to almost a sprint for the final half-mile of the 4,000-meter varsity girls race Tuesday at Wyandotte County Park. Her late push helped her pass five runners and place second at the Kaw Valley League championships.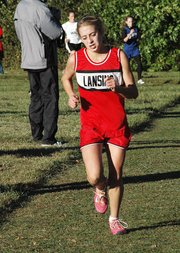 "This would have to be the hardest one I've run," Jaqua said. "Rim Rock was bad because it was my third race (in a week), but this was just bad, period. It was just so cold, freezing. There was really high competition and we all knew it, so our nerves were going."
Jaqua might not have preferred the weather conditions, but she certainly liked her end result. Her time of 16 minutes, 31 seconds, was a personal best by six seconds. It's the fourth time this season she has lowered her school-record mark. Kelsey O'Hara of Mill Valley won the race in 16:18.
O'Hara was at or near the front of the pack for the entire race. Meanwhile, Jaqua darted into second place early before slipping back to eighth by the mile marker. She held her ground for a bit and then gradually moved into sixth place before hitting the final half-mile. She kicked hard the rest of the way and set her sights on O'Hara, but O'Hara - who placed fourth at the KVL meet in 2005 - was just out of reach.
"I wanted it pretty bad," Jaqua said of her dreams of being a league champion. "I wanted to catch her really, really bad. Winning league would've been amazing, but coming close my freshman year is good."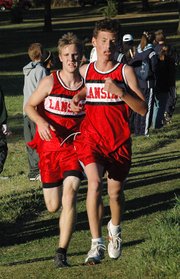 Freshman Abbey Lozenski joined Jaqua in earning medalist honors. Lozenski placed 18th in 17:55, just seven seconds shy of her personal best (set at Wyandotte County Park at the Bonner Springs Invitational on Sept. 14).
Lozenski used a late push to earn a top-20 finish and medal. She said it helped that she was familiar with the course.
"Having run this before, I really knew I could do it and I could push it," she said. "When there's only a little bit left, you're just thinking to yourself that it doesn't matter if it's long or not. You know you can do it because you've done it before."
Senior Lori Flippo placed 27th in 18:37. Other Lansing runners were junior Sandy Collier (44th, 20:26), Emilee Taylor (46th, 20:36), Amanda Mitchell (47th, 20:41) and Andrea Shanks (48th, 20:41).
Basehor edged Tonganoxie for the team title in a tiebreaker. Both teams scored 63 points, so the tiebreaker went to the team with the faster No. 6 runner. Mill Valley was third with 64 points. Lansing placed fifth with 127 points.
In the boys' race, Bishop Ward freshman Aaron Connor placed first in 17:49. LHS junior Griffin Davis was 22nd in 19:03. Other LHS runners were Matt McCurry (28th, 19:34), Wes Appleget (32nd, 20:04, Trenton Dorf (36th, 20:19), Greg Bremser (37th, 20:21), Brandon Mills (42nd, 20:42) and Joe Bagby (47th, 21:11).
"The boys ran well together," LHS coach Errol Logue said. "We just aren't running up there far enough, but they ran well together."
Bonner Springs won the boys team title with 41 points. Tonganoxie was second with 53. Lansing placed sixth with 147.