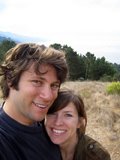 Julianne Kochenour and David H. Gorman, Venice, Calif., were married Sept. 30, 2006, at the Post Ranch Inn in Big Sur, Calif., where they had eloped. Soaring Starkey, a nondenominational minister, officiated.
The bride is the daughter of Jack and Maryann Kochenour, Lansing. The groom is the son of Ashley Gorman and Nancy Lole, Southfield Mich.
The bride is a graduate of the University of Kansas and is an account executive and freelance writer.
The groom is the owner of Hackmart, a boutique Creative firm.
A reception for the family and friends of the couple is planned for Oct. 28 in Culver City, Calif.
The couple took a honeymoon to Barcelona, Spain.