Passenger flees scene after head-on crash
The two drivers involved in a head-on collision earlier this week on Kansas Highway 5 are recovering from their injuries as authorities continue to wonder why a passenger in one of the vehicles fled the scene.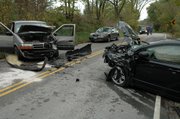 A Honda Civic driven by Robyn Novak, 452 Reveilly Trail Terrace, Lansing, and a Chrysler minivan, drive by Harold Worley, Kansas City, Kan., collided late Tuesday morning, Oct. 17, on Kansas Highway 5 southeast of Lansing, the Leavenworth County Sheriff's Office reported.
Crews from the Sheriff's Office, Leavenworth County Fire District No. 1 and Leavenworth County EMS responded to the wreck, which took place about 11:40 a.m. on K-5 just south of Tontine Road and Wolcott Drive.
But a passenger in Worley's van fled into the nearby woods as authorities arrived on the scene, about 7 miles southeast of Lansing.
Lansing Police Chief Steve Wayman said his officers had been called to assist in the hunt for the passenger.
Leonard Ayres of the Leavenworth Sheriff's Office said authorities didn't know what to make of the passenger, who remained unknown through Wednesday morning.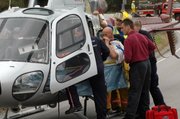 "We haven't been able to interview the van driver and don't feel good enough to even comment about the passenger until we hear from the driver," Ayres said.
Both drivers in the accident were transported to area hospitals; Novak, 24, was taken to Cushing Memorial Hospital in Leavenworth for treatment of minor cuts and abrasions, authorities said; Worley, 35, was flown by Life Star air ambulance to University of Kansas Hospital in Kansas City, Kan., for fractures and possible internal injuries. A hospital spokesman said Wednesday afternoon Worley was in fair condition.