Patrol hands out grants
Lansing Educational Foundation Fund rewards teachers
A little summertime homework has paid off for 17 Lansing school district teachers and their students.
The Lansing Educational Foundation Fund prize patrol on Tuesday, Oct. 17, visited classrooms and presented flowers, chocolate and oversized checks totaling $3,500 to the recipients of the fund's minigrants for classrooms.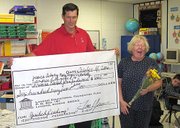 Many of the students cheered as the fund's board members congratulated the teachers during the second year of the fund's Educate the Pride 2006-'07 grant distribution.
Lansing Intermediate School fourth-grade teacher Felicia Yoakam's project Proud Readers received $395 to purchase classroom sets of "The Report Card" and the classics "Charlotte's Web" and "Shiloh."
Yoakam said she considered the award a professional compliment.
"It's an honor that somebody would even think that you're idea is wonderful enough to fund it," she said.
LIS literacy coach Carolyn Boyd and fourth-grade teacher Lisa Dewane will collaborate with Yoakam on the project.
Yoakam said the novels would be purchased in sets of 50, allowing fourth- and fifth-graders to read the books together as a class while building confidence in their reading abilities and enhancing the skills they're learning from their textbooks.
Working toward an application and proposal deadline of Aug. 15, Yoakam and the other teachers applied for $3,500 worth of minigrants, which were distributed in sums of $500 or less. Projects with more than one teacher could combine grants to fund collaborative projects.
Educate the Pride experienced growth during its second year, with $500 more in awards and 11 applications - an increase of three proposals over last year.
Two Lansing Elementary School proposals, EarthWorks field experience and Guided Reading, received funding for the second year in a row.
Advisory board members evaluated the proposals using a scoring rubric that awarded points based on 10 criteria.
LEFF director Mary Alice Schroeger said projects that promoted innovation, enhanced curriculum and aligned with the missions of the LEFF and the district earned high scores.
In all, the program funded eight projects this year. Three proposals did not receive funding.
"The ones that didn't get funded - while there are limited funds - the advisory board felt there was probably money in other places to pay for that kind of a project and that those sources need to be accessed first," Schroeger said.
She said the minigrants helped fill gaps in funding while enhancing the educational programs across the district and awarding teachers for a job well-done.
The thrill of receiving a grant check, as well as support from one's colleagues and community, can go a long way, said Schroeger, who also is a teacher at Lansing High School.
She said she fondly remembered the impact of earning grants, especially those she received early on in her 19-year teaching career.
"It was a fabulous motivational tool for me. I was excited about teaching for another year. It was a good experience," she said.
But, most importantly, Schroeger said, the students will reap the benefits of the projects, which touch on a variety of subjects such as reading, science, music, and health and wellness.
Advisory board member Chris Cristiano presented flowers - and several hugs - to the grant recipients Tuesday.
At Lansing Middle School, Cristiano congratulated science teacher Jennifer Kolb, who received $297 for her Engaging Energy project.
The minigrant will purchase the Little Shop of Physics Energy Kit for use in the sixth-grade classrooms at LMS.
Using the kit, Kolb will create a scaffold to illustrate the concept of energy transfer, a skill assessment the students will be tested on next year in seventh grade.
Cristiano said the project caught her eye during the review process because it enhanced the science curriculum and standards while providing hands-on activities inside the classroom.
"I think a lot of children learn so well with hands-on and visual things," she said. "I'm really happy that we were able to support many of the grants that were applied for."
Schroeger said a separate LEFF grant would provide $1,000 in funding for the Lansing High School and Kaifeng Middle School No. 5 partnership later this fall when LHS plays host to a visit from two students and three educators from Kaifeng, China.
LEFF also awarded a grant to LIS to purchase a $500 InterWrite School Pad interactive teaching tool and $500 to LES for two AlphaSmart keyboards, which help students with motor or writing difficulties communicate in the classroom.