State berths up for grabs at regional cross country meet
The Lansing High cross country team will compete at the Class 5A regional meet at 11 a.m. Saturday at Shawnee Mission Park in Lenexa.
The top 15 individual runners automatically qualify for state, as do the top four teams. The possibility of additional individual qualifiers exists because the five fastest runners from non-state-qualifying teams also advance to state.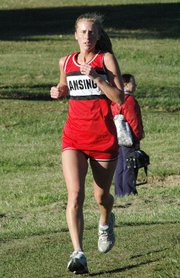 LHS coach Errol Logue said the Lions will have a difficult time advancing full teams to state, but he said a number of individual runners could make it on their own.
The Lions with the best chance of qualifying are freshmen Lauren Jaqua and Abbey Lozenski and senior Lori Flippo in the girls' race. In the boys' race, junior Griffin Davis and freshman Brandon Craig both have an outside chance of qualifying.
"Our best shot is Jaqua as an individual," Logue said of the freshman who placed second Thursday at the Kaw Valley League championships. "I'm awfully excited about her, because you still don't know how good she can be. She just keeps getting better, and she's a smarter runner with the experience she's getting."
Jaqua's school-record four-kilometer time of 16 minutes, 31 seconds, is the fourth-fastest overall time entering the regional. If she matches that performance she should be a shoo-in for state. Meanwhile, Lozenski and Flippo's fastest times of the season would - on paper - put them in the state meet, too.
"At the beginning of the year my goal was just to make it to state," Lozenski said. I would just love to make it to state as a freshman. It would be amazing, and especially to take three runners."
Meanwhile, a breakdown of the boys' times indicates that Davis and Craig could qualify for state if they match their fastest times of the season.