Stepping out
Marching Lions fine-tune performance for state competitions
Sporting a new color guard and a lively Latin theme, the Marching Lions are taking their show on the road this month.
Lansing High School's marching band will travel to Kansas music festivals in Manhattan and Independence to compete against other high schools and receive ratings and feedback on its performances.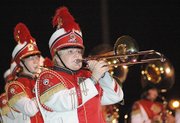 LHS band director Luke Johnson said the Central States Marching Festival on Saturday, Oct. 21, at Kansas State University would be worth the trip down Interstate 70.
"It's very educational the way it's run. They don't just give you a rating and send you out the door," he said. "They give you feedback and ways to improve, which is what we're after more than a rating."
The Marching Lions fared well at last year's festival, where they received a "2" rating, or excellent, among a field of 33 Kansas high school bands.
Judges will critique the LHS color guard as well. The 12-member group made its reincarnation this fall, after a hiatus that began in the late 1980s.
"That should be telling, to see how they're doing in the first year," Johnson said.
And on Oct. 28, the Marching Lions will make the three-and-a-half-hour trek to Independence, in southeast Kansas, to participate in the Neewollah Marching Band Festival.
This is LHS' first appearance at Neewollah, which is Halloween spelled backwards.
Johnson said he hoped seeing other high school bands from around the state would motivate the Marching Lions.
"There are some really high-level groups," he said. "We have a ways to go to get where I'd like us to be on that."
Throughout the football season, the Marching Lions have performed an abridged version of the Latin-themed program they will perform at the festivals.
The show includes plenty of cha-cha-cha, featuring "Estancia" by Jay Dawson, "Flight of the Condor" by John Higgins and "Oye Como Va," made popular by Carlos Santana in the 1970s.
"It's great music for a marching band because it's really brassy and heavy on percussion, which with marching band, is kind of a big thing," he said.
Preparing for a competition, Johnson said, requires countless hours of practice beyond the band's 50-minute daily class session. Many color guard and band members begin practice at 7:30 a.m., 30 minutes before class. Sections also meet during the evenings to collaborate.
In the final days before the festivals - what Johnson calls the cleaning stage - the Marching Lions fine-tune their performance, in both sight and sound.
"It all has to match and blend together," Johnson said.