Tonganoxie — There will be a Friday night a few years from now when Lansing Middle School football coaches Doug Faught and Lee Matzeder will sit back in the stands at Lansing High's Frank Graham Field and chuckle to themselves.
LHS will be putting the finishing touches on another victory - perhaps a Kaw Valley League championship - and Faught and Matzeder will smile and remember the fall of 2006.
Photo Gallery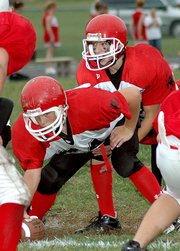 LMS football tops Tonganoxie
This season has been a memorable one for the coaches, and it's not because LMS posted a 7-0 record. They'll remember it because of the kids who made that perfect record happen.
"They're good. They made us as coaches look good," Matzeder said with a smile after Lansing closed its season with a 32-8 victory over Tonganoxie on Tuesday afternoon at Tonganoxie Middle School. "Lansing High School in about two years, when they're sophomores and get their feet wet, they're going to be tough."
Although the future looks bright for this group, the past certainly was sweet. Lansing rolled to a 7-0 record last year, and it did the same this season. During that two-year span, only Monticello Trails presented a serious threat. Lansing won 12-0 last year and 8-0 this year.
"If you just watch them play, they have that sense about them that they know what they have to do and they get where they need to be to get the job done," Faught said.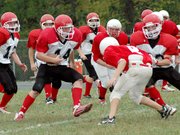 Tuesday's victory came in similar fashion to the others. Lansing smashed the ball up the middle time and again, and then ran the occasional toss play for big yardage down the sideline. In between drives, a stingy defensive effort gave the Chieftains fits.
LMS took an 8-0 lead early in the second quarter when Dillon Scanlon scored on a two-yard run. He also scored the two-point conversion.
Cory Andrews sacked the Tonganoxie quarterback on the ensuing possession, and the defense later smothered a fake punt. The Lions capitalized on the prime field position as Parker Gibson scored from 27 yards out on a toss play that made it 14-0.
Quarterback Tyler Terron scored on a four-yard run, Nathan Wessel recorded a safety and Spencer Blew added a 28-yard touchdown run to cap Lansing's scoring and put the game out of reach.
For the players, the game symbolized one final victory before joining the ranks of high school football. For the coaches, it was an memorable final game with a special group of players.
"I've been at this for 31 years and this has been as much fun as I've ever had," Faught said. "You couldn't ask for better kids. Their attitude. The parents. The support. It's all been great."
Eighth-grade team members are Cory Andrews, John Bagby, Tyler Baughman, Jake Bales, Spencer Blew, Zack Bradley, Nick Fodness, Curtis Fore, Dakota Fox, Parker Gibson, Brennan Goodnature, Zack Hammer, Brennen Holcomb, Patrick Horton, Ethan Johnson, Ryan Keen, Luke Knott, Peter LaMoe, Kaleb McQuillan, Kris Mohan, Cole Mohan, Tony Moretine, Matt Newby, Nick Pfrimmer, Dillon Scanlon, Alex Sexton, Matt Stratton, Tyler Terron, Derek Tucker, Nathan Wessel, Ethan Williams, Shaun Wyman, Tyler Hoyt, Matthias Miller, Garret Hinckley and Octavian Marinuta.