Lions keep playoff hopes alive with 20-13 victory
Just seven days ago the Lansing High football team looked like it was ready to throw in the towel on its season.
Injuries and miscues ravaged the LHS offense, and the defense fell apart, too. A third straight trip to the state playoffs looked like an afterthought.
The week that followed didn't do much to heal injuries, but it gave the Lions time to do some valuable soul-searching.
Then came Friday night, and Lansing delivered arguably its finest all-around performance of the year with a 20-13 come-from-behind victory over Kansas City-Washington.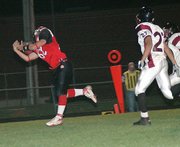 The victory was big for a number of reasons, but none were bigger than the fact that Lansing now controls its own destiny for advancing to the Class 5A playoffs. At 1-1 in district play, LHS will advance if it beats Kansas City-Schlagle next week.
"Some of these guys have been playing football for us for a couple of years now and they know it's rolling down to the end and this was our chance to get into the playoffs," LHS coach Bill Pekarek said. "We had to have this win to (have a chance to) get into the playoffs. This was an important game."
The game was equally important for Washington. It won its district opener last week against Schlagle, 19-13, so a victory Friday would have put the Wildcats into the playoffs.
Washington (4-4 overall, 1-1 district) took a 7-0 lead on its opening drive, but the possession was a mixed blend of good and bad. An incomplete pass, a tackle-for-loss and a holding penalty all threatened to halt the drive, but running back Duone Maxwell found a crease and burst through for a 46-yard touchdown run less than four minutes into the game.
Lansing (3-5) wasn't rattled by the early deficit. With regular running backs Kyle Grape, Daniel Eyerly and Chris Hill all sidelined with injuries, the Lions turned to reserves Cameron Schiller, Brenton Smith and Brad Terron to carry the load on the ground.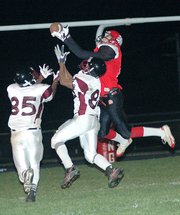 The new-look backfield wasn't the only thing different about the LHS offense, though. Senior quarterback J.T. Collins operated out of the shotgun more than he had all season, and he found success early and often. He nailed tight end Joe Kohl on a slant over the middle for a 23-yard gain and connected with wide receiver Bobby Hauver on a 10-yard curl route. Facing a fourth-and-27 situation, Collins lofted a perfect deep ball that Kohl snared with a diving over-the-shoulder grab in the back of the endzone. Kohl's 28-yard touchdown catch pulled the Lions within 7-6 with 2:07 left in the first quarter.
Both teams were unable to score on their next three possessions, but Washington put together an eight-play, 61-yard scoring drive that was capped by a 21-yard touchdown reception by James Carter just 8.9 seconds before halftime. The extra point attempt failed, and Washington took a 13-6 lead into halftime.
Although the Lions were down, they certainly weren't out of it. That much was evident on their first drive of the third quarter as they went 61 yards on nine plays. The final play of the drive was another critical fourth-down strike by Collins. This time he connected with junior wide receiver Stephen Didde in double-coverage for a 25-yard touchdown. The two-point conversion attempt failed, but LHS was within 13-12 with 8:46 left in the third quarter.
After the score, the LHS defense stepped up and forced Washington to go three-and-out on back-to-back possessions. Terron, Kohl and David Dickson each had two tackles during that stretch and senior Angelo Barron batted down a pass.
The defense did its job, and in doing so also gave the offense good field position. Lansing capitalized on that early in the fourth quarter. LHS ran three straight plays to Smith, and the sophomore running back delivered a first down. Then senior Brad Zink picked up another first down on an end around run. After another four-yard gain by Smith, Terron took a toss play for 11 yards. Then he plowed up the middle untouched for a 15-yard touchdown as Kohl cleared the way. Collins scored the two-point conversion on a run. That gave LHS a 20-13 lead with 10:02 left.
Photo Gallery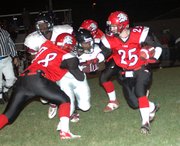 Lansing rallies past KC-Washington
With the lead in hand, the Lansing defense took care of the rest. Washington started to string together a drive, but Antonio Johnson's pass to the endzone on second down was picked off by LHS junior Tim Torchio. Torchio returned the interception 31 yards and effectively thwarted Washington's final legitimate scoring opportunity.
"I think it was huge," Torchio said of the momentum Lansing gained from the defensive stnd. "I think it really made us want to finish them off and try to come up with a W so we can try to go to the playoffs next week."
Lansing went three-and-out on its next possession, and Washington got the ball back with 4:04 left. The Wildcats drove 24 yards to the LHS 46-yard line before their drive stalled. They went for it on fourth-and-12, and Lansing sophomore Tyler Strouhal diffused the threat with a quarterback sack.
"I thought it was a huge statement," Didde said of the Lions' ability to step up in all areas and put the game away. "We've been in a lot of games and didn't finish. Today we showed what we can do."
The win was important to the Lions, but the night also was emotional because it was the final home game for seniors Grape, Collins, Schiller, Eyerly, Michael Rudnicki, Anthony Goff, Peter Willcott, Billy Bayles, Barron, Kohl, Zink and Jonathan Martens.
"Coach has been telling us all week that we had to leave everything on the field because it's the seniors' last game at home," Didde said. "We had to step up for them, and we knew we had to win these next two games to advance (to the playoffs) and to get the seniors at least another game."
The Lions weren't flashy statistically, but they were effective. Collins completed six of 13 passes for 145 yards and two touchdowns, but he didn't throw any interceptions. Terron had 11 carries for 78 yards and a touchdown. Smith had 13 carries for 35 yards. Didde caught two passes for 75 yards. LHS outgained Washington 312-252 in total offense, but the Wildcats were penalized 13 times for 80 yards. The disciplined Lions were flagged just six times for 38 yards.