LHS

sends four runners to state
Jaqua, Flippo, Lozenski, Craig earn return trip to Rim Rock Farm
Shawnee — The weather conditions Saturday guaranteed nobody at the Class 5A regional cross country meet would run their fastest race of the season.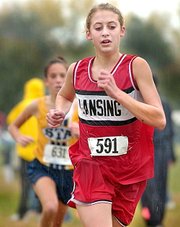 With speed no longer an option, the Lansing High runners opted to capitalize with toughness. Other runners might have been fazed by the 45-degree temperatures, bitter breeze, steady downpour or muddy slop that made most of the course at Shawnee Mission Park slicker than an ice rink, but that wasn't the case for the Lansing. Instead, the Lions thrived on mental toughness, determination and a whole lot of guts. In the process, four LHS runners qualified for state.
Freshmen Lauren Jaqua and Abbey Lozenski and senior Lori Flippo will represent the Lansing girls. Freshman Brandon Craig will represent the LHS boys. They will race Saturday, Oct. 28, in the state meet at Rim Rock Farm in Lawrence. The Lions previously ran at Rim Rock three weeks ago.
Jaqua placed seventh overall in the four-kilometer girls race in 17:01. Flippo was 23rd in 18:39. Lozenski was 26th in 18:52. St. Thomas Aquinas freshman Ashley Washburn was the regional champion in 16:06.
The top four teams advanced their full squads to state. Those teams were regional champion St. Thomas Aquinas with 26 points, Bishop Miege with 51 points, Mill Valley with 83 points and Gardner-Edgerton with 94 points. Lansing was the fifth-place team with 124 points.
Amanda Mitchell placed 38th for the Lansing girls in 20:57. Rounding out the squad were Sandy Collier (39th, 21:02), Andrea Shanks (41st, 21:23) and Emilee Taylor (42nd, 21:31).
Craig placed 27th overall in the boys race and was the last individual qualifier to make it to state. He covered the five-kilometer course in 19:12. KC-Turner senior Hunter Whitmarsh was the boys champion in 16:59.
Aquinas won the boys team title with 15 points. Bishop Miege (71), Bonner Springs (79) and Gardner-Edgerton (90) rounded out the top four teams. Lansing placed sixth with 165 points.
Other Lansing finishers were Matt McCurry (35th, 19:51), Griffin Davis (38th, 20:07), Wes Appleget (40th, 20:11), Greg Bremser (41st, 20:11), Trenton Dorf (43rd, 20:15) and Brandon Mills (46th, 21:26).
For a closer look at the regional meet, pick up the Oct. 26 edition of The Current.