Knipp gets record; Bobcats advance
Senior scores historic goal in 6-0 playoff win
Through one half of soccer Tuesday, Basehor-Linwood High School and Eudora High School were tied 0-0, and the second-seeded Bobcats were in danger of falling victim to one of the biggest playoff upsets in Kansas history.
But Austin Knipp made some history of his own just 20 seconds after halftime. The senior split two defenders 30 yards from the goal and carried the ball all the way to the right side of the net. He then settled the ball and set up for a short shot from a tough angle. As he has done so many times, Knipp took advantage of his scoring opportunity, rocketing the ball up over the goalkeeper's head.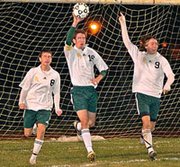 As his teammates rushed in to hug him, Knipp sprinted into the goal, snatched up the ball and held it over his head in his right hand. It was his 97th career goal, which set a new record for the state of Kansas and ended a chase that had been weighing on Knipp for weeks.
"Every emotion I've had in the last week fretting about this thing was gone," Knipp said.
Knipp's goal set his team on fire. Thirty seconds later sophomore Tanner Bowers crossed the ball from the right corner and junior Stephen Millison headed it in for his 14th goal of the season. Two minutes after that Millison returned the favor, setting up Bowers for a goal. In less than three minutes the game went from a 0-0 nail-biter to a comfortable 3-0 lead for BLHS.
In what has become a somewhat familiar theme for the Bobcats, an uninspired first half gave way to a speech by coach Kevin Vincent and an explosive second half. But Vincent said he couldn't take much credit for Tuesday's turnaround.
"It wasn't even one of my better ones," Vincent said of his halftime speech. "I just told them we had to finish and we finished."
Some credit was certainly due to Knipp, whose big plays always seem to inspire his younger teammates.
"It made us get going," Bowers said of Knipp's goal to open the half. "We usually start slow and today we finally got going when he scored. Then Stephen was able to finish one and I was able to finish one."
Credit was also due to the Bobcats' defenders, Mitch Mallon, Alex Ziegler, Jonas Box and Ian White. They kept the game scoreless despite playing without junior captain Sam Seaman in the first half. Vincent made Seaman sit out the first half as discipline for a yellow card he received in the previous game against Bonner Springs.
Seaman immediately gave the Bobcats a lift when he joined the team in the second half at his usual sweeper position. He even got into the act offensively, scoring his first goal of the season. Three minutes after a Millison penalty kick gave the Bobcats a 4-0 lead in the 55th minute, Seaman crashed into the box and knocked in a corner kick from Justin Gripka to make it 5-0.
Bret DeRuse came off the bench to finish the scoring for the Bobcats, notching his fourth goal of the season in the 68th minute.
The Bobcats' victory ensured that they will play again at home this Friday. They'll face the winner of Tuesday's De Soto-Maur Hill game. Earlier in the season BLHS beat De Soto 5-0 and Maur Hill 5-2. If they win Friday they'll advance to the state quarterfinals where they will face one of the state's elite teams.
"We know we can compete with the good teams this year," Bowers said. "We've just got to come out strong right away. If we play like we did in the first half against a team like Maranatha or KC Christian, we won't be able to win."
Friday's game will be at 6 p.m. at BLHS. For more on Knipp's record-setting career at BLHS, see Thursday's Sentinel.