Basehor-Linwood senior breaks state's goal-scoring record
Austin Knipp let everyone know what his priorities were early in his high school soccer career.
In late September of 2003, Knipp had just finished the ninth game of his freshman season, and had set a new record for career goals at Basehor-Linwood High School, with 14. The youngster was asked what he wanted to accomplish in the next three years.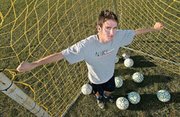 "I'm just looking to win games," Knipp said. "I mean, it matters if I score, but the most important thing is that we win games, and having our high school be known as good at sports, and soccer especially."
In the last four years it's generally been true that for the Bobcats to win, Knipp has had to score. Tuesday's playoff game against Eudora was no exception. After a scoreless first half, the second-seeded Bobcats were in danger of getting upset, but, just 20 seconds into the second half, Knipp changed the complexion of the game.
The senior took a pass from Stephen Millison, split two defenders 30 yards from the goal and dribbled down to the right side of the 6-yard box. He settled the ball and set up a short shot from a tough angle. It rocketed over the Eudora goalie's head and into the top of the net.
Knipp snatched up the ball and held it over his head in his right hand. It was his 97th career goal, which set a new record for Kansas, and ended a chase that had been weighing on him.
"Every emotion I've had in the last week fretting about this thing was gone," he said.
The Bobcats caught fire after Knipp's goal and won 6-0. He didn't score another Tuesday, but one was all he needed to break the state's previous career record of 96, set by Maranatha Academy's Jon Lemmon in 2003.
Saying Knipp has scored a lot of goals in his career is like saying quantum physics is sort of complicated. The average person would need a dictionary of soccer lingo to visualize all the ways he has put a ball in the net.
There's the "backheel" (he kicks the ball backwards without looking at the goal), the "bicycle kick" (he kicks the ball backwards over his head without looking at the goal), and the "upper-90 rocket" (he shoots, with considerable velocity, into one of the net's upper corners, where the post and crossbar meet in a 90-degree angle), to name a few.
According to the Kansas Sports Hall of Fame, Knipp has scored more goals than anyone who's ever played high school soccer in Kansas, at any level. With at least one game still to play, he has a chance to become the state's first player to reach 100 goals.
"Where I'm at right now is far from where I ever thought I could get," Knipp said.
Knipp is reluctant to talk about the record, except to say that it's a blessing and that it's cool that someone from Basehor now has it. His teammates are more vocal about it.
"I just want to get to 20, and he's got 97," sophomore midfielder Tanner Bowers said. "It's incredible."
Knipp has been all-league and all-state and is now the most prolific goalscorer in Kansas high school history. As an individual he's done everything a player can do. But the things he said were really important to him, winning games and gaining respect for his school, are still a work in a progress.
In fact, Knipp and his team had never won a playoff game until Tuesday.
"What I get from the season doesn't really mean as much as the playoffs," Knipp said. "I'd much rather win a playoff game, and go deep in the playoffs, than get all the things that I've had."
The kid becomes The Man
Austin Knipp never planned to become the face of Basehor-Linwood soccer. As a freshman he had the same dreams most kids have -- get some varsity minutes and make an impact.
"I remember coming in freshman year and telling other people it would be cool if I got five or six goals," Knipp said.
He got 24. It was a season that surprised everyone, including his Kaw Valley League opponents. In warm-ups they saw a skinny kid who was listed as a freshman in the program and didn't give him a second glance. They didn't notice how the ball exploded off his right leg, or how easily his long, effortless strides ate up turf. Once the game started, they found out quickly.
"We didn't really know anything about him, he did kind of come out of nowhere," Bonner Springs coach Jimmy Vogel said. "I asked some of my players who he played for (in the premier league)."
But Knipp didn't grow up playing in those prestigious leagues. He honed his skills in Edwardsville's recreational league instead. He didn't join his premier team, the Leavenworth Twisters, until after his breakout freshman season.
Knipp shattered the BLHS career goals record and earned first-team all-KVL honors that year. In one season he went from relative unknown to the unquestioned leader of a Bobcats' team that was long on heart, but short on depth. BLHS finished with five wins, and lost in the first round to perennial power Kansas City Christian, 6-0. After the game a frustrated Knipp made a secret vow to then-coach Ken Couch.
"I told him when I was a freshman that we'd win state before I left," Knipp said.
In his sophomore year he realized how tough it would be to make good on that promise. Suddenly, everyone in the KVL knew who Austin Knipp was, and knew that stopping him was the key to beating BLHS. Knipp still managed 18 goals, but the Bobcats again finished with just five wins. The playoffs were a disaster, as the team fell in the first round 10-1 against a De Soto team that went on to win the state tournament. Couch resigned and, with Knipp's junior year approaching, the Bobcats were looking at a rebuilding year under new coach Kevin Vincent.
A game for the ages
Austin Knipp may have been chasing Maranatha star Jon Lemmon's career goals record this year, but it's Jon's brother, Alec, who has haunted him. Before this season, no single player was more responsible for Knipp's winless playoff record than Alec Lemmon.
Lemmon and the Maranatha Eagles faced the Bobcats in the playoffs during Knipp's junior year. The Bobcats went 7-9 and got the 10th seed in the regional tournament. For having their best season since the program began in 2000, the Bobcats earned the privilege of opening the playoffs against the defending state champion Eagles, and their captain, Alec Lemmon.
Lemmon had just finished up a senior season that saw him earn the state's career assists record, giving him and his brother a daily double of records that few soccer families could imagine. He and the Eagles had played a bevy of 6A schools in the regular season and, while it hurt their record, it made them much tougher when they entered the class 1-4A playoffs.
BLHS went into the game heavy underdogs, but Knipp was more focused than he'd ever been.
"He'd walk around not saying much and when you said 'Hi' to him, he'd just give a little nod," Knipp's friend, Matt Fanning, said.
On Oct. 25, 2005, Knipp unleashed the energy he was saving on the Eagles. He scored on his first shot, just 10 minutes into the game.
"That showed us we could play with them," Bowers said.
Suddenly the Bobcats were flying to the ball, not the least bit intimidated.
But Lemmon wasn't about to let his career end there. The senior scored three goals, including the golden goal in the fourth overtime, and Maranatha won 4-3. The Eagles overcame three goals from Knipp, his 21st, 22nd and 23rd of the season, and 63rd, 64th, and 65th of his career.
Knipp was out of the playoffs in the first round again, and this loss was harder than the last two. He still thinks about it "all the time," and it remains a serious source of heartache.
"Sometimes I'm just really ticked off because of how we couldn't quite pull through," Knipp said. "I don't like thinking about it, sometimes."
Big talent, small school
The Bobcats earned the respect of Maranatha that day.
"I was kind of amazed," said Alec Lemmon, who now plays at MidAmerica Nazarene University with his brother, Jon. "They were a really aggressive, hard-working team and they put away their chances when they got them."
Of Knipp he added, "It seemed like every time he got the ball, he scored."
After surviving BLHS, the Eagles went on to take third in the state tournament that season.
The Bobcats built on that game this season, setting a new team record for regular season wins with 11. The team's roster has grown and now includes deeper sophomore and junior classes.
Knipp is also having his best season as an individual. At the start he needed 32 goals to break the record, an unlikely total. But as each game has come and gone, the improbable has become nearly inevitable. Knipp has been shut out just twice in 17 games this year and, when he notched his 31st goal on a penalty kick in the regular season finale, it set him up for Tuesday's magical moment.
Knipp has also earned respect as someone who plays the game the right way. He's always the first to help up an opponent, and he never talks trash or complains to the referees. In 67 career games, Knipp has received only three yellow cards.
"He's a class player all the way," Vincent said. "As a coach you know he's not going to put you in a position that reflects badly on the team."
But being quiet and humble doesn't always pay, including when it comes to college recruiting. Knipp has gotten attention from small local colleges like St. Mary's and Ottawa, but his dream school is Division-I Indiana.
Basehor isn't one of the usual recruiting stops for teams like Indiana. Also, some schools may not trust Knipp's gaudy statistics, because he didn't go to a big class 6A high school. Vincent spent his playing days at 6A Olathe East, currently the top-ranked high school team in the state. He says Knipp would have fit in fine there.
"Before I got to know Austin I'd heard the hype, but I didn't really know his talent level," Vincent said. "Now, after seeing him for two years I think he would be a star at the 6A level. He's as good as I think I've ever seen."
Last year St. Thomas Aquinas, a national soccer power in Overland Park, had 12 players sign to play D-I. Had Knipp transferred from BLHS to Aquinas, he might not have even had to crack the starting lineup for the big colleges to notice him. But his loyalties to his hometown and his friends at BLHS kept him from making such a move.
One last chance
Knipp's patience and loyalty may pay off this season. The Bobcats are 12-4-1 and ranked fourth in the state in 1-4A. They're the second seed at regionals and opened the playoffs at home for the first time ever on Tuesday.
Knipp is finally surrounded by a talented, experienced group of teammates that is determined to make this a banner year for BLHS soccer.
"We'll come out intense next game for sure," junior captain Sam Seaman said after Tuesday's win. "We'll make it happen."
But, for Knipp, winning one more playoff game isn't enough. He wants to get two more wins and reach the state semifinals, where the college scouts are, and where he'll have the chance to fulfill a goal he set a long time ago.
"Right now I look at it as, if I don't get to state, and get third or above, I've kind of failed myself," he said.
An all-state player, the top forward in Kansas soccer at any level, feeling like a failure? He wouldn't if his goal total was all that mattered to him. But right now, Austin Knipp is much more focused on the one goal he has left.