Entrepreneurial streak calling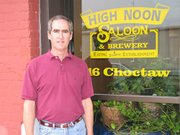 A year before Bruce Kidder retired from the Army, he felt his entrepreneurial streak calling. But he had a problem: He wasn't sure what kind of business he wanted to run.
It was St. Patrick's Day of 1997 when he walked into High Noon Saloon to inquire about business opportunities.
"I remember the day because the streets were all blocked off," said Kidder, who had been in the establishment several times before that day. "I really liked the whole environment and the whole feel of the place."
That day, Kidder made a connection with R.D. Johnson, High Noon's brewmaster, and as luck would have it, the owners were looking to sell about five months later. In March 1998, Kidder partnered with Johnson and took the plunge into the brewery business.
"That first year it was a little frustrating because we just weren't quite sure what we were doing," Kidder said.
Despite a lack of direct experience, Kidder's education in business and his military training served him well. Even during their first year of operation, the brewery was bubbling with business.
"We brought a lot of new ideas to the High Noon and I think we kind of invigorated it," Kidder said. "So sales were way up."
Kidder has since learned the ropes of the restaurant business, though busy days can still be stressful. And sometimes, brewing beer presents unique risks.
One summer night the machine regulating the beer's brewing temperature failed. Attempts to save the beer were unsuccessful, and 14 kegs of beer were wasted.
"That was about 220 gallons of beer that we had to pour out," Kidder said. "You want to see money going down the drain, that was like, 'Well, here we go : '"
Name: Bruce Kidder
Address: 178 Canyon View Drive
Occupation: Retired lieutenant colonel, restaurateur
Graduate of: University of Alabama, bachelor of business; Florida Institute of Technology, master of contracts and acquisition management.
Family: Brigitte, wife; Jay, 9, son; Lara, 8, daughter; Basher, dog.
How long have you lived in Lansing and what brought you here? Stationed at Fort Leavenworth in the summer of 1996, retired in March 1998.
What do you like most about Lansing? "It's a small town next to a big town. Lansing has all the advantages of a small town but is still close to the sports, entertainment and culture of Kansas City."
What do you do for fun? "I enjoy just spending time with the family, being with the kids : but also winter sports like skiing, and summer sports like surfing."
What's the best advice you've ever received? "I guess I would say, 'Don't burn energy on things you can't do anything about.'"
What organizations or clubs do you belong to? Association of the United States Army, Kansas Restaurant and Hospitality Association