Halloween treats abound at
LHS
Leadership group collects food for needy, prepares for children's party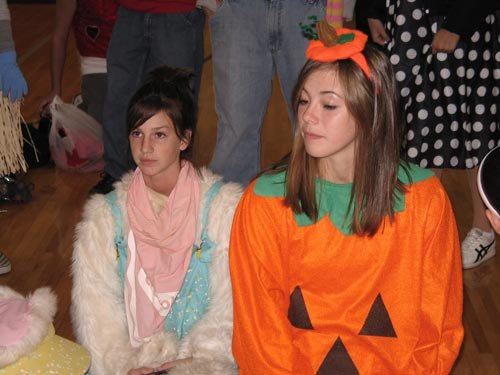 Lansing High School Leadership council members are getting plenty of wear and tear out of their Halloween costumes this month.
LHS students visited Lansing neighborhoods Oct. 18 during Leadership's annual Trick or Treat for Cans food drive.
Some were cowgirls. Others were ladybugs, pumpkins or mimes. And there was even a set of salt- and peppershakers.
At the end of the night, 10 teams of LHS students had collected 2,222 pounds of nonperishable food for the Leavenworth Assistance Center.
Team Awesome collected the most pounds and took home the prize - a big bag of candy. Jessica Bradford, senior class vice president and Team Awesome member, said the generosity of residents in the Fawn Valley neighborhood helped her group bag the victory.
Elizabeth Cristiano, senior class treasurer, said the donation of more than a ton of food demonstrated the community's commitment.
"This one lady had a cast on her ankle and she could barely get up and down the stairs," she said. "She got a huge stack of canned goods and brought it down to me. It's the dedication and support and involvement of our community that helps make this so successful."
On Halloween night, Leadership council members will don the costumes for another communitywide service project - Trick or Treat for Kids.
But this time, they'll be the ones distributing the goods.
From 6 p.m. to 9 p.m. Tuesday, Oct. 31, area children can trick-or-treat at Lansing High School during Leadership's annual Trick or Treat for Kids.
Parents can accompany their children as they meander through the decorated LHS hallways, wrestling room and gymnasium.
Junior Eric Hansen said the event would be kid friendly. Organizers have opted for cartoon character-themes over "Scream" masks and faces covered in fake blood.
The event is primarily geared toward students in kindergarten through third grade, though children younger than 5 also are welcome.
Brooke Didde, sophomore class president, said Trick or Treat for Kids provided a safe environment for children to enjoy Halloween without parents having to worry about them.
"It keeps them safe and off the streets," she said.
Plus, LHS will be warm and dry no matter what the weather, said freshman Rebecca McMurphy.
Riann Deere, senior class president, said Leadership expected 400 to 500 children at the event and still needed candy. She said those who would like to donate may deliver candy to the main offices at Lansing Elementary School, 210 E. Mary, or Lansing High School, 220 Lion Lane, before 3 p.m. Friday, Oct. 27.