Shawnee — The weather conditions Saturday guaranteed nobody at the Class 5A regional cross country meet would run their fastest race of the season.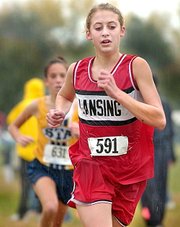 With speed no longer an option, the Lansing High runners opted to capitalize with toughness. Other runners might have been fazed by the 45-degree temperatures, bitter breeze, steady downpour or muddy slop that made most of the course at Shawnee Mission Park slicker than an ice rink, but that wasn't the case for Lansing. Instead, the Lions thrived on mental toughness, determination and a whole lot of guts. In the process, four LHS runners qualified for state.
Freshmen Lauren Jaqua and Abbey Lozenski and senior Lori Flippo will represent the Lansing girls. Freshman Brandon Craig will represent the LHS boys. They will race at 10 a.m. Saturday in the state meet at Rim Rock Farm in Lawrence.
"I was impressed with their courage in this kind of atmosphere and their determination to do the best they could," said 38th-year LHS coach Errol Logue. "They didn't come in here to be super heroes. They came in to do the best they could, and that's why they were successful."
Jaqua placed seventh overall in the four-kilometer girls race in 17:01. Flippo was 23rd in 18:39. Lozenski was 26th in 18:52. St. Thomas Aquinas freshman Ashley Washburn was the regional champion in 16:06.
Course conditions were tolerable early Saturday when the Class 6A races kicked off the regional, but the rain continued to fall and the course was a muddy mess by the time the 5A races began. Rather than being troubled by the weather, Lozenski said it helped the Lions relax.
"The rain, besides the cold, it was a lot of fun," she said. "It especially helped when we were warming up. It loosened us up and we weren't as nervous because of the rain."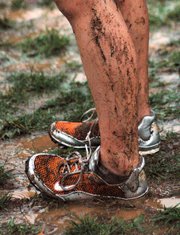 Jaqua and Lozenski both found decent footing at the starting line and broke out with the lead pack, but Flippo wasn't as fortunate.
"As soon as the gun went off, I fell," Flippo said. "I wasn't ready for it. He just blew the gun and I slipped and fell. I was in the back of the pack, and I was like, 'There's no way I'm going to get up there.' But I did."
Jaqua settled in with the top 10 and held her ground the rest of the way. She could have finished higher than seventh, but she said she used caution throughout the race to avoid falling.
"I took it wide on the corners because I knew I didn't want to chance it going in the mud," she said. "A lot of people went down right next to me."
Meanwhile, Flippo and Lozenski pulled up side by side and paced each other the rest of the way. Together they inched their way up in the pack and held off other runners who tried to pass.
"Me and Lori, we've been pretty close all the way through, and if she could do it then I knew I could, too," Lozenski said. "That's the only thing that kept me going. I really wanted it, and I wanted all three of us to be there at state next week. I just tried really hard to keep up with her, and she's the only reason I kept pushing myself."
The top four teams advanced their full squads to state. Those teams were regional champion St. Thomas Aquinas with 26 points, Bishop Miege with 51 points, Mill Valley with 83 points and Gardner-Edgerton with 94 points. Lansing was the fifth-place team with 124 points.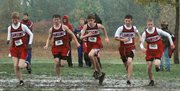 In addition to the top four teams, the top five individual runners on non-qualifying teams advance to state. Jaqua was the first of those bonus qualifiers, Flippo was second and Lozenski was fourth.
Lansing's Amanda Mitchell placed 38th overall in 20:57. Rounding out the squad were Sandy Collier (39th, 21:02), Andrea Shanks (41st, 21:23) and Emilee Taylor (42nd, 21:31).
Craig placed 27th overall in the boys race and was the last individual qualifier to make it to state. He covered the five-kilometer course in 19:12. KC-Turner senior Hunter Whitmarsh was the boys champion in 16:59.
For Craig, the state berth was especially meaningful because he made such a strong push at the end. He passed a Mill Valley runner at the start of the home stretch and held him off the final 150 meters to earn his place at state.
"I felt really good on this race," Craig said. "I think it was one of the best races I've had so far."
Aquinas won the boys team title with 15 points. Bishop Miege (71), Bonner Springs (79) and Gardner-Edgerton (90) rounded out the top four teams. Lansing placed sixth with 165 points.
Other Lansing finishers were Matt McCurry (35th, 19:51), Griffin Davis (38th, 20:07), Wes Appleget (40th, 20:11), Greg Bremser (41st, 20:11), Trenton Dorf (43rd, 20:15) and Brandon Mills (46th, 21:26).