Pirates drown Bobcats' playoff hopes
Season ends with 40-8 loss to Piper
The Basehor-Linwood High School football team's chances of advancing past the district playoffs floated away on a cold wet Thursday night, as the Bobcats lost to Piper 40-8.
The Pirates broke free for two long third-down touchdown runs on their first two possessions Thursday, putting the Bobcats in catch-up mode early. After going down 13-0 the defense stiffened for the rest of the half, but the offense had trouble getting on track.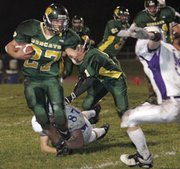 Andrew Stueckemann nabbed an interception and Ethan Douglas had two fumble recoveries for BLHS in the first half, but the offense couldn't turn any of the turnovers into points.
Tyler Miles appeared to make a game-breaking play six minutes before halftime when he caught a short pass, fought off a would-be tackler and went 22 yards to the end zone. But the play was called back for an illegal use of hands penalty and the Bobcats turned it over on downs.
The Bobcats caught a break three minutes later when Piper senior E.J. James fumbled and they recovered at Piper's five. But a false start penalty killed the momentum and the Bobcats failed to punch it in the end zone, giving the ball back to the Pirates at their own 2 with just nine seconds left in the half.
At that point, an ill-advised play call by Piper helped the Bobcats get on the board. Rather than just kneeling on the ball or running it up the gut, sophomore quarterback Joel Wright dropped back into the end zone. He then tried to go forward, as if to run a draw play, but he was hit and tackled by BLHS senior linebacker Kevin Marshall before he could clear the goal line.
The safety cut the lead to 13-2 at halftime and was one of four sacks for Marshall in the last game of his brilliant career.
In the third quarter, though, Piper made up for its mistake big time. The Pirates outscored the Bobcats 21-0 in the third, all but icing the game. The only highlight of the second half for BLHS was a 51-yard touchdown run by junior tailback Bruce Tyner with two minutes left in the game. Tyner took a first down handoff and headed up the middle, before cutting left and breaking two tackles. Once he got to the left sideline he simply outran the Piper secondary for the score. It was Tyner's first touchdown and the longest play from scrimmage for BLHS this year.
For more on the game and the final season stats, see next Thursday's Sentinel.