Playoff berth up for grabs against Schlagle
With its first- and second-string tailbacks sidelined by injuries and its starting fullback out with a bum knee, the Lansing High football team pulled off an improbable come-from-behind victory Friday, Oct. 20, against Kansas City-Washington.
Now LHS is one victory away from making a third straight trip to the state playoffs.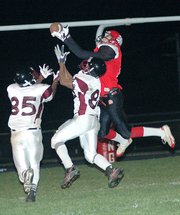 A win at 7 p.m. Friday against Kansas City-Schlagle would send the Lions to their first Class 5A playoff berth after going to the postseason each of the past two years in Class 4A.
Friday's game will be played at Washington High School, 7340 Leavenworth Rd. Washington and Schlagle share a football field.
"I hope they're excited as heck, because we still have a chance to be in the playoffs," LHS coach Bill Pekarek said. "We just need another win. Hopefully we're going to play a little better on offense, the defense will keep playing tough and we can get into that playoff game."
Lansing appeared destined for another playoff berth at the start of the season, but the Lions struggled from the start and dropped their first three games. The defense improved and the offense eventually caught up, but injuries posed a constant problem.
Still, at 3-5 overall and 1-1 in District I play, everything seems to be falling into place at just the right time. Although LHS is using third-, fourth- and fifth-string running backs, the Lions are approaching the situation with a business-as-usual mentality and showing no signs of mental weakness.
"We're just going to have another hard week of practice, focus on defense and keep working on the offense," junior wide receiver Stephen Didde said.
Lansing also is in an ideal situation entering Friday's game because it is coming off an emotional victory. Meanwhile, Schlagle went 5-1 during the regular season but now is 0-2 in district play.
"I think the momentum is with us, but we're going to have to practice hard because Schlagle's not going to be easy," junior defensive back Tim Torchio said. "We're going to have to come out and play."