Students pledge to remain drug-free
Nearly everywhere Lansing Intermediate School students look this week they're seeing red, and that's not a bad thing.
The school's Red Ribbon Week kicked off Monday, Oct. 23.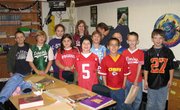 LIS counselor Marianne Walker said lessons and activities during the annual weeklong event aimed to reinforce the benefits of saying no to alcohol, drugs and tobacco.
The messages also warn students of the long-term effects - and sometimes lethal consequences - of drug, alcohol and tobacco usage.
"What we try to do during Red Ribbon Week is just make the students aware of wise choices they need to make, how dangerous drugs can be," Walker said.
Students also learn about the event's history.
Red Ribbon Week began in 1988, three years after the kidnapping and murder of Drug Enforcement Administration special agent Enrique "Kiki" Camarena in Mexico.
"It's important to know why it got started and that someone really had a purpose for trying to help other people stay safe from the dangers of drugs," Walker said.
Throughout the week, the messages of Red Ribbon Week reverberate in the classrooms and hallways.
On Monday, teachers distributed red ribbon stickers to the students. Tuesday's theme encouraged students and staff to show they were "good sports who don't use drugs" by wearing their favorite team's athletic shirt. On Wednesday, students pledged to stay drug-free by signing a hallway banner created by the LIS Student Council. Peer mediators decorate the cafeteria with red balloons displaying drug-free messages on Thursday. And the red theme continues through Friday, when students and staff integrate as much red into their wardrobe as possible for Wear Red Day.
Walker also visits classrooms, where fifth-graders perform a play about inhalants and fourth- and fifth-graders watch a cartoon about a boy whose brother uses drugs.
And she talks with students about related issues such as peer pressure and the benefits of a healthy lifestyle.
"A big part of teaching drug resistance is for the students to understand that a lot of kids turn to drugs because of peer pressure, or they think it's gonna make them do things better or feel better than the way the are," Walker said.
She said Red Ribbon Week at LIS was important because fourth- and fifth-graders are at an impressionable age. That's one of the reasons fifth-graders participate in D.A.R.E., the drug abuse resistance education program, every spring.
"Peer pressure becomes much greater as you start getting older," she said. "So I think if they have a really good foundation and feeling about themselves before they start getting into that really difficult age, I think it really helps them."
On the playground, fourth-graders Danielle Harvey, Taylor Hibbeler and Amber Hawkins talked about what they've learned about drugs, alcohol and tobacco.
"I don't want to smoke because my walls will turn yellow-green," Danielle said.
"I want to be drug-free, and I don't want to have lung cancer," Amber said.
Taylor agreed.
"We just want to be safe, and we want to stay with our families as long as we can."