Wristen: For Flippo, rain was a blessing that allowed her to shine
Shawnee — On paper, Lori Flippo knew her chances of advancing to the Class 5A state cross country meet were slight.
But what about wet paper? Spill a glass of water on it and the ink runs. Numbers become illegible. Suddenly what's supposedly set in stone becomes blurred. Possibilities become endless.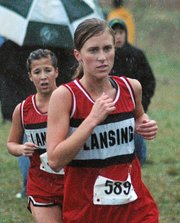 The paper, along with the cross country course, were soggy Saturday at the regional meet at Shawnee Mission Park. The weather conditions - 45-degree temperatures, wind and a steady downpour - were nasty enough to make most runners falter.
Not Flippo. The Lansing High senior sensed opportunity in the squishy mud that covered the four-kilometer course. She'd been slowed in recent weeks by an overuse injury in her left leg. There's only one way to heal an overuse injury, and that's to do the opposite of the name. You must underuse it by ceasing to run altogether. Flippo refused to stop, though, and the injury grew worse. It reached the point that "it hurt more to walk than run."
Flippo's decision to continue running was an easy one. She'd never been to state before and she wanted to go as a senior. Stopping would've ended that dream. Running through the pain at least gave her a shot. Still, it was clear going into regionals that she needed to run her fastest race of the year to qualify.
When Lansing's team bus pulled up to Shawnee Mission Park on Saturday morning, however, it became clear to Flippo that the speed factor had been diminished greatly. In addition to the rain and cold, the course was so black with mud that it resembled an oil spill.
This race wouldn't be about speed. Instead, it would be about toughness. Advantage Flippo.
Flippo's one misstep was her first one of the race as she slipped and fell in the mud. She made a quick recovery, worked her way through the pack and caught up to teammate Abbey Lozenski by the mile marker.
"I was glad I got up next to Abbey," she said. "I figured that if I got up with her that would work to both of our advantages because we could both be stronger."
The pair ran side by side for the next mile. They saw some runners slip in the mud while others slowed their pace and wilted in the miserable conditions.
Flippo broke away for a final kick to the finish line for a 23rd-place finish. She didn't run her fastest race of the year - her time of 18:39 was 28 seconds off her personal best - but she ran her smartest, gutsiest and most aggressive race of the season.
About that pain in her leg? "I was pretty much numb the whole way through," she said with a laugh. "And I could barely move my arms because I was so cold."
She warmed up at the news that she qualified for state.
"I'm just excited because I wasn't sure if I was going to make it," she said. "I've been nervous about this all week. I was like, 'I have to make it.'"
Flippo will step to the starting line at 10 a.m. Saturday at Rim Rock Farm in Lawrence for her final race. Teammates Lozenski and Lauren Jaqua, both freshmen, will be by her side.
"I'm glad that I'm going to be there with Lauren and Abbey because I think we're going to be strong," she said. "They're the best girls ever."
On paper, Jaqua has an outside shot at finishing in the top 20 and winning a state medal. Flippo's chances at a medal are slim to none.
Saturday's weather forecast is dry, so the paper might be right this time. If so, that's OK with Flippo. She doesn't need the rain. Her leg still hurts, but she wants to cross the finish line at state and end her career in style.
"If (my leg) falls off, it falls off, as long as I make it through the next week," she said with a smile. "I'm just so happy I made it."