Markovetz leads Lions to tie with Jags
Senior tallies two goals in hard-fought draw
It wasn't quite revenge, but the Lansing High boys soccer team's 2-2 tie with Mill Valley Thursday night will have to do.
"We only lost to one team last year in our regular season, and that was Mill Valley," LHS coach Randy Brown said after the game at Lansing Middle School. "We lost to them twice, and it was shutouts both times. What a monkey on your back.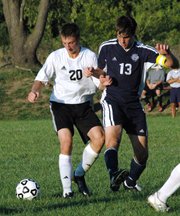 "And now it's the second game of the season and they come here, and we have something to prove. One, we scored first. There was no shutout involved here. Second, we're scoring in the second half, which is good. And third, they're not beating us. I think we're making a statement, and that's great.
"If it would have gone the other way, what a psychological impact that would've had on the team. Having this, what a thing to build on."
The tie in itself is a serious building block for the Lions. After all, senior goalkeeper Alex Burton and senior forward Andy Dick are the only returning starters still playing the same position from a year ago. Three players who combined for 60 goals in 2005 are gone. Plus, a slew of new faces adorn the varsity roster.
Regardless of all the changes, it's clear that anybody who thought Lansing soccer would fall off in 2006 is sorely mistaken.
"Coming back from last year with two losses to this team, I was nervous," senior Nate Markovetz said. "This is really big for us. It's a great way to start the season."
Mill Valley (2-0-1 overall, 2-0-1 KVL) spent the first few minutes of the game playing as though it expected to blow out Lansing (1-0-1 overall, 1-0-1 KVL). The Jaguars fired shot after shot - forward Spencer Nash sent a header off the crossbar just 75 seconds into the game - but Lions senior goalkeeper Alex Burton was up to the challenge.
Photo Gallery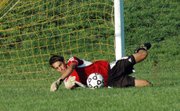 LHS battles Mill Valley to a 2-2 soccer draw
Burton was given a bit of breathing room at the 8:07 mark when Markovetz received a pass from Stepan Herout, weaved through the Jaguars' defense and made his way into the box before chipping a shot past the charging keeper and into the net.
The 1-0 lead didn't stand long, though. Mill Valley answered with a goal 66 seconds later when Nash used a header to put away Alex Linthicum's corner kick. Nash then fired four more shots in the next six minutes, but both Burton and the crossbar kept his shots out of the net. Lansing weathered the storm and went into halftime with a 1-1 tie.
Mill Valley opened the second half just like it did the first. It launched a series of shots on goal and repeatedly made strong runs in the box. Burton was up to the challenge each time as he gobbled up shot after shot.
Eventually the Jaguars slipped a shot by. In similar fashion to their first goal, the Jaguars scored on another header in the 61st minute. Coady Andrews collided with Burton while going after the header, and Andrews got just enough of the ball to knock it down and into the net for a 2-1 lead.
Trailing for the first time, the Lions looked to Markovetz again four minutes later. The senior set up for a free kick from about 20 yards out. He smashed a low line-drive shot that clipped the wall of Jaguar defenders and deflected just inside the right post.
"I was watching it, and it was going so slow," Markovetz said of the shot's deflection. "I just thought, 'I don't think the goalie's going to get it.' It just kept rolling, and I was jumping around and everything."
Once the shot went in, Markovetz's teammates jumped around, too. With the game tied again, the Lions responded with a vengeance. They cranked up the intensity on both ends of the field, won headers in the air and played lock-down defense. Whether it was Nick Stevenson and Mo Meyer making hard slide tackles to disrupt breakaways or freshman Phillip Nelson battling for headers, the Lions used their toughness to counter the Jaguars' speed and experience.
"You've got to win those 50-50 balls and be aggressive," Markovetz said. "That's what we're pushing for every day."
The Lions had a few chances to win the game at the end of regulation and during both overtime periods, but they were unable to score.
Although they didn't come out with a win, the tie is a big deal for the Lions because it keeps them in position to repeat as Kaw Valley League champions.
"We control our own destiny," Brown said. "That's a great position to be in."
Lansing will take its next step in its title defense at 6 p.m. Tuesday when it hits the road against Tonganoxie at Chieftain Park.
JV SHUTS OUT JAGS
Lansing High junior Chance Thackston made his high school goalkeeping debut Thursday afternoon against Mill Valley, and he earned a shutout in a 2-0 victory.
Usually a forward, Thackston played goalie so he could rest a tender ankle. The move allowed usual goalkeeper Jason Swisher to play in the field.
Ben Costello and Matt Robbins scored Lansing's goals.
The JV Lions (1-1) next play at 4:30 p.m. Tuesday at Tonganoxie.