Popularity brings problems to expanded bus service
Ridership up more than twofold by students in Lansing district
The wheels on the Lansing school district buses are going 'round and 'round a lot more this school year.
This summer the district announced free additional busing for students who live one mile or more from their school and for those who have to cross Kansas Highway 7 - the construction-riddled Main Street - to get to school.
Parents signed up their children for the service in droves. So far this year, 1,089 students are using it -more than two-and-a-half times the amount last year when 420 students rode the bus.
But three weeks into the school year, some students and parents are feeling the growing pains of a system that grew faster than district officials anticipated.
Superintendent Randal Bagby said the idea for additional busing surfaced in 2004 during the bond issue campaign to build a new elementary school and high school auditorium. Bagby cited safety as the primary reason for the change.
"It's been a needed service for a long time, and now that we have it everyone is taking advantage of it," he said. "We encouraged everyone to take us up on it - and actually we underestimated how many it would be."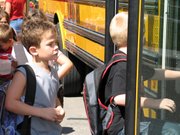 Carolyn Jaqua, administrative assistant to the director of maintenance for the district, said traffic congestion on the school campus, the upcoming school construction and construction on K-7 made the decision to reduce the number of vehicles on campus inevitable.
"We're seeing a lot less cars on campus," Jaqua said. "That is working."
Officials negotiated the district's busing contract with Durham School Services by adding four buses and eight routes this school year. The state pays transportation costs for students who live outside of a 2.5-mile radius of their school. Last year, students who lived fewer than 2.5 miles from Lansing schools paid a $175 fee to ride a bus.
WALK TO THE BUS
Frank Ketchum, a single parent who lives in the 200 block of Fairlane, said he was grateful the district now provided free busing for his daughter, Amber, a third-grader. His 13-year-old son, Kaleb, rides his bicycle to Lansing Middle School.
"I remember what the rates were when they were younger, and I'm very thankful it's free now," Ketchum said.
He said he would have had to pay the fee if not for the change, because he wouldn't consider letting his 8-year-old daughter walk to school. She's still too young, and it's just not safe, he said.
"If they ride the school bus, they pick them up at the door and drop them off at the door," Ketchum said.
While some students, including Ketchum's daughter, do receive pick up and drop off service in front of their homes, others do not.
Farther down Fairlane, Ron and Diana Eichost have decided the trek to the bus stop their grandson Cameron Krites would have to make was just too long for a first-grader.
The Eichosts said Cameron's assigned bus stop was almost three blocks from his parents' home.
Ron Eichost said there were too many other factors to worry about - including dogs, cars and people - if Cameron were to walk that far every day.
Until "a more central location" is offered, the Eichosts will provide their own transportation.
"It's just easier to drive them," Ron Eichost said. "It's just not worth the hassle."
Jacob Davis, a freshman at Lansing High School, said he signed up for bus service this year because it was free. Every morning, he walks more than two blocks to his stop on Fairlane with a group comprised of his siblings and neighborhood kids. He said he sees parents driving their children to the bus stop and thinks it's "crazy."
"Why can't they pick us up over here?" Davis asked.
COSTLY ENDEAVOR
As part of the district's contract, Durham designs the bus routes and schedule. The district estimates it will pay $575,000 for bus service this year - about $72,000 more than last year.
Bagby said he realized there were children who were walking that far, but when the state doesn't pay for the additional busing, the district has to. Fewer stops help keep the new service within budget, he said.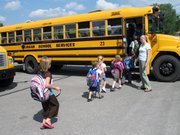 "Everybody loves front-door service, but if I have 30 requests for front-door service and it adds two minutes per stop, 30 of them makes an hour," Bagby said. "That part we can't accommodate. Now we could accommodate it, but we'd double that $500,000 a year."
Angela Theel lives near Holiday Drive and Fairlane. Each day she walks daughter Michaela, 9, and son Billy, 6, to Highland Playground, where she said about 20 neighborhood children board the school bus.
Although the bus stop is nearly two blocks from their home, Theel said it was still a convenient service that she appreciated. If it weren't free, she and her husband would be driving their children to and from school again this year.
Michaela said she enjoyed playing at the park and riding the bus.
"I get to sit on the bus with my friends and talk to them while I'm riding home," she said. "I don't have to wait for my dad (to pick me up)."
Theel said she had already thought about colder weather and how that would affect their morning and afternoon routines.
When the cold air comes, Theel said, she would have to drive her children to the bus stop.
"It would be nice if we had a closer stop," she said.
Still, she said she's "very happy now" with the service.
"It's more convenient," Theel said.
Some parents, however, don't see the point in driving their children to the bus stop. Jenny Johnson said she wanted to take advantage of the additional busing this year, but she wouldn't let her first-grade daughter walk almost three blocks alone. For now, she'll drive Kaleigh to school.
"For the kids who live close to their stop, it's a good deal," she said, "but if I'm putting her in the car, why not just take her to school?"
Bagby said he understood why some parents would do that, but he encouraged them to avoid contributing to traffic congestion and to drop their kids off at the bus stop rather than at school.
NOT AS ROOMY
Parent Kelly Manning, who lives at Lansing Heights Townhomes on West Mary Street, said she had heard complaints from her third-grade son, Nicolas, that the bus was "hot and crowded."
Manning said the system wasn't perfect, but the free service allowed her to keep her infant daughter on schedule and kept her son from walking across K-7.
"I don't want him to cross that highway," she said.
Lansing Elementary School principal Tim Newton said he had heard "a few" complaints from parents about longer bus routes. He said he understood their concerns, but it was important that the district not waste bus space.
"We have a responsibility to taxpayers to fill up the buses," Newton said. "The most important thing is safety. That's my first priority.
"It makes me feel a lot better to know the kids don't have to cross Highway 7."
ONGOING CHANGES
Judy Bettis, transportation manager at Durham School Services, said the buses were roomier last year because they weren't being utilized to full capacity.
Bettis and Bagby agreed that the system still required "some tweaking."
Bagby said it was important for parents and students to remain open to change, particularly as construction on Main Street evolves and affects traffic patterns.
With the added routes came the development of a transportation database that will help Durham and district officials assess the needs of customers. Bagby said the database would help identify problems and solutions related to crowded routes.
"This is going to be an ongoing thing, and we're going to have to get better at it," Bagby said.
"I'm not totally satisfied. I think we have a lot more learning to do, particularly when we've more than doubled our riders. I feel good about it that we're offering the service, but at the same time I'm totally cognizant that we have some more work to do to get it cleaned up."
Bettis said the first few weeks of school proved challenging, but the situation was getting better as parents and children got used to the changes.
She encouraged customers to phone Durham at 727-3884 if they have questions or concerns about their children's bus service.
"This is a turnover this city hasn't seen for years," Bettis said. "If people will be patient, we'll solve their problem for them."