Area walkers seek breast cancer cure
Linda McGowan has a simple reason for participating in this year's Breast Cancer 3-Day - a 60-mile walk in which participants raise donations for breast cancer research.
"I think it's just the fact that it lets people know that we are serious about finding a cure for the breast cancer epidemic," said McGowan, a Leavenworth resident who is in training for the Kansas City version of the walk.
The Kansas City walk, one in a series of 12 similar events across the nation this year, takes place Sept. 15-17. The walk benefits the Susan G. Komen Breast Cancer Foundation and the National Philanthropic Trust Breast Cancer Fund.
McGowan will be joined by an estimated 1,500 women, including several others from Leavenworth County, for the three-day Kansas City walk. Other participants from the area include Judy Lansing, of Leavenworth, and Pat Hickson, of Lansing.
For the privilege of walking 60 miles over the three days, the women will be required to raise a minimum of $2,200 apiece. Neither training to walk 60 miles nor raising $2,200 are easy tasks, the women say.
"They're both pretty large undertakings," Lansing said. "I know we've all been doing this quite awhile because I met these ladies a number of months ago. We've been working hard for a long time."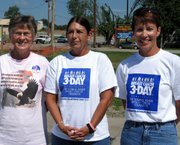 McGowan and Lansing already have surpassed the fundraising mark; Hickson is within range of the goal.
McGowan is far too familiar with breast cancer. Her grandmother died from breast cancer at age 42; her mother at age 44. McGowan is a nine-year breast cancer survivor; she's had a double mastectomy. Testing has shown she has the BRCA2 (breast cancer early onset) gene, which means both her daughter and son are at a higher incidence risk than the general population.
Lansing, too, has firsthand experience with breast cancer. She was diagnosed with the disease 13 years ago, then had a recurrence in 2004.
"I have three daughters and a granddaughter," Lansing said. "I'm walking - as my shirt says - for a 'Cure for Sure.'"
As for Hickson, "I've had friends who have gone through breast cancer - and I've gone through it with them - and I just wanted to do something positive to make a difference. And I thought this was the right time."
The three women have been in training, separately, since early this year. This will be McGowan's second year in the walk; Hickson and Lansing are rookies.
They've each followed a prescribed regimen from walk organizers, starting slowly and gradually increasing their mileage. This past weekend, for example, Hickson walked 20 miles on Saturday, 20 miles on Sunday and 15 miles on Monday. It was her first "three-day."
"I've got to put a word in for my coach," Hickson said. "My husband (Wayne) is my biggest fan and he's walked with me the whole time, helping me to get ready for this."
Hickson and McGowan are partial to walks on 20th Street in Leavenworth - "Twentieth Street is great for training because it's got the hills that you need," McGowan said.
Lansing, meanwhile, said although she had trained on 20th Street, "I've been everywhere in Leavenworth you can think of."
A weightlifting accident in March sidelined McGowan for six weeks, but she said she'd be ready for the walk, which begins with opening ceremonies at 6:30 a.m. Sept. 15 at the Kansas Speedway in Kansas City, Kan., and concludes with closing ceremonies at 5 p.m. Sept. 17 at the Liberty Memorial in Kansas City, Mo.
"There's no doubt in my mind these ladies are ready," McGowan said, though she noted the novices would find that training for the walk was different from actually participating in it.
McGowan, who has participated in other cancer-awareness events and fundraisers, including Relay For Life and Race for the Cure, said the Breast Cancer 3-Day was unlike any other event.
"The camaraderie - it doesn't matter who you meet on the trail - they all have their story," she said. "There's so much tears and laughter and history. The survivors that are out there - it's amazing; there are survivors out there who are going through treatment now and still walking. I could not have done it."
Hickson said, "To me, the survivors are the inspiration."

McGowan noted the inspiration she was drawing from Lansing, who is a two-time breast cancer survivor.
"I have great admiration for Judy because I know the stress I know I go through every day in fear of a recurrence. I just admire her so much that she's gone through this twice," she said.
Lansing noted her mutual admiration for McGowan and all the walkers who have one goal in mind: Raising enough money so that researchers can find a cure for breast cancer.
"I'm just hoping 1,500 women or more at $2,200 apiece, it's got to make some kind of difference in the research," Lansing said. "It's just got to before too long. We've waited too long. I've waited too long for 13 years."
Donations accepted
If you'd like to sponsor Pat Hickson, Judy Lansing or Linda McGowan in this year's Kansas City Breast Cancer 3-Day, go to www.the3day.org. Click on "Donate," then click on "Kansas City" and enter a search for their names.
Lending a hand
Easton resident Winda Ohlde won't be walking in this year's Kansas City Breast Cancer 3-Day, but she will be providing vital services to the walkers.
Ohlde said she wanted to participate but started too late in raising money. The $350 she was able to raise was far short of the $2,200 needed by each walker. Instead, she'll report the weekend of Sept. 15-17 as a volunteer.
"Even though I didn't raise the money this year, I'm going to be a crew member, and hopefully someday I'm going to be a more active participant," Ohlde said.